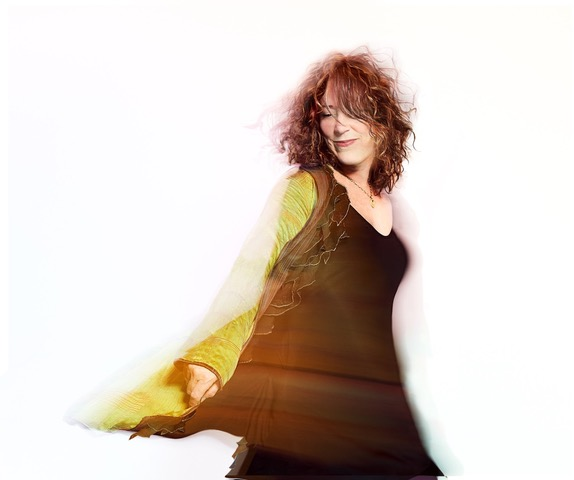 In celebration of her fifteenth studio album 'CrazyTown' (out 23rd September on Cooking Vinyl), Beth Nielsen Chapman will be bringing her CrazyTown tour to venues across the UK this Autumn.
Giving UK fans the opportunity to acquaint themselves with Chapman's singular live performances, the Texan songwriting superstar will be pitching up at a total of 20 venues throughout October and November this year.
With bluesy recent single "Hey Girl" unveiled earlier this month, Beth Nielsen Chapman is offering her first taste of new music in over four years with her forthcoming fifteenth album 'CrazyTown'. Blending elements of classic rock, blues and pop and demanding attention with an addictive chorus and effortless vocal, "Hey Girl" is a welcome return for the acclaimed singer-songwriter and a bold introduction to the forthcoming album.
Coinciding with the run of UK live dates, the new 'CrazyTown' LP sees Beth work with legendary producer Ray Kennedy (Lucinda Williams, Steve Earle) and promises to be an unmissable addition to the two-time Grammy nominee's seminal catalogue.
Of the forthcoming release and tour, Beth explains:
"'CrazyTown' is a collection of songs that reflect all the twists and turns of life, especially reflective of this wild ride we have all been living through. I'm looking forward to hitting the road with this new music finally seeing the light of day."
If you are going to a Beth Nielsen Chapman concert get ready to laugh and cry and, well, fasten your seat belt. One thing you can count on is one great song after another, and some fascinating stories woven between them. With tickets on sale now, full dates and details can be found as follows:
BETH NIELSEN CHAPMAN – 'CRAZYTOWN' UK TOUR 2022
OCTOBER
18 – Corn Exchange, Stamford
19 – Cheese and Grain. Frome
21 – Town Hall, Birmingham
22 – RNCM Concert Hall, Manchester
23 – Cadogan Hall, London
26 – Philharmonic Hall, Liverpool
27 – Pavilion, Weymouth
29 – De La Warr Pavilion, Bexhill
30 – Tivoli Theatre, Wimborne
NOVEMBER
2 – The Apex, Bury St Edmunds
3 – Corn Exchange, Exeter
4 – Savoy Theatre, Monmouth
6 – King's Hall, Ilkley
10 – Subscription Rooms, Stroud
15 – Lowther Pavilion, Lytham St Annes
16 – Victoria Theatre, Halifax
Tickets on sale now: https://bethnielsenchapman.com/tour/
* * * * *
Twice Grammy-nominated Nashville based, Beth Nielsen Chapman has released thirteen solo albums and written seven #1 hits and songs recorded by Bonnie Raitt, Willie Nelson, Bette Midler, Elton John, Neil Diamond, Michael McDonald, Keb Mo', Roberta Flack, Waylon Jennings, Indigo Girls, & Faith Hill's Mega-hit This Kiss, ASCAP'S 1999 Song Of The Year.
Her songs have been featured in film and TV and as an artist Beth's work has been diverse, from singing in nine different languages on Prism(2007) to The Mighty Sky(2012) Grammy-nominated astronomy CD for kids of all ages in addition to her deeply moving body of work as a singer-songwriter throughout her other releases. 2014's UnCovered in which she reclaims her hits, features legendary guests from Vince Gill to Duane Eddy.
Sand & Water (1997), written in the wake of her husband's death, was performed by Elton John to honour the memory of Princess Diana. In the Autumn of 2016, Beth, along with Olivia Newton-John & Amy Sky created and toured behind an inspiring project called Liv On – A New Album to Aid & Comfort Those Experiencing Grief & Loss While Using the Power of Music To Heal.

Inducted into the Songwriter's Hall of Fame in 2016, Beth is also a breast cancer survivor and environmentalist and considers herself a creativity midwife, passionate about inspiring others to fully blossom into their creative life.
Throughout her career, Beth has been in demand as a keynote speaker and teacher of workshops on creativity, songwriting, grief, and healing through art, using a unique inspiring approach to tapping into the creative process. She has also taught at Universities internationally including the Royal Scottish Academy of Music & Drama, The Liverpool Institute of Performing Arts, and the Berklee School of Music among others.
Hearts Of Glass, Beth's 2018 album and most recent is a riveting and sparse listen. A powerful collection of songs that reach into the place within us where vulnerability meets strength, right into the centre of the full beautiful dance of contradictions that inhabit love and life. More recently Beth was invited to be an Ambassador for the Buddy Holly Educational Foundation. www.tbhef.org