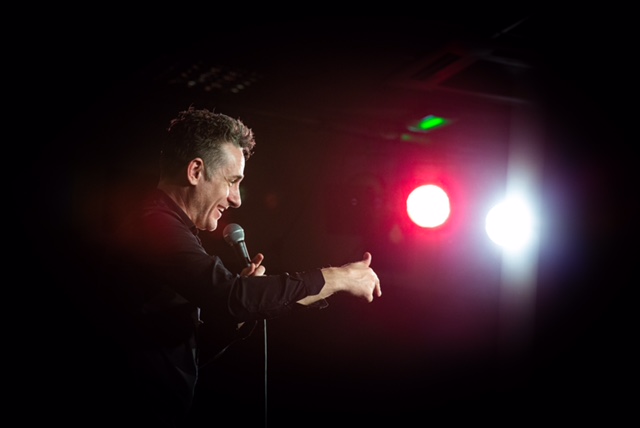 Following another near sell out UK tour and Edinburgh Festival 2019, Tom hit the road with his new show 'You Ain't Seen Nothing Yet' and not many people did get to see anything, as along with the rest of the touring world, Tom's juggernaut of one, had to park up in a pit stop and take a break, while the pandemic wrecked its havoc on the world.
A devout party animal, one would perhaps have expected Tom to struggle through such socially barren and health conscious times, but no! In every sense of the word Tom GOT CLEAN… the booze and cigarettes went out of the window and on his daily dog walks around the park Tom took a refuse sack collecting a full bag of rubbish, every day for 30 days straight. Appalled by the amount of litter he saw during lockdown, he felt compelled to get off his "butt" and do something about it, only taking to social media to report on his daily clean up mission.
But now, as the live sector rev up their engines once again, the unparalleled master and worst-kept secret of stand-up comedy, Tom Stade, is back! The kids have moved out and it's a dawn of a new era for the Canadian comedy legend. Pushing the boundaries of his irrepressible sense of mischief further than ever before, join Tom as he revels in his newfound sense of freedom with hilarious anecdotes of how he is embracing the next chapter of his and his family's lives.
With 30 years out on the comedy frontline as well as a brand-new show every year since 2011, Tom Stade is only just warming up as he enters the new decade with even more of his rock 'n' roll swagger and blithesome spirit. You really ain't seen nothing yet!
"ROCK 'N' ROLL COMEDIAN. ABSOLUTELY BOXFRESH; NOTHING IS STAID ABOUT STADE." Evening Standard
The rescheduled tour dates from 2020 due to the COVID-19 pandemic will now take place from August 2021 to January 2022. See below for full date listings.
"HUGE PRESENCE. PROPERLY HILARIOUS, THOROUGHLY ENJOYABLE" Mirror
Well known for his spellbindingly cool stage presence and side-splitting material, Tom was the co-writer and co-star of Frankie Boyle's infamous Channel 4 series Tramadol Nightsas well as co-writer of online series M.U.F.Falongside Daniel Sloss. Tom Stade's excellence and universal appeal has led to many years of dominating the world with international touring and a nomination for Best Headliner by Chortle. His last tour I Swear To…has also been recently produced as a special release for Amazon Prime and Next Up Comedy. Since making the UK his home in 2001, Tom has also regularly performed for the British troops overseas in the Falklands, Afghanistan and Iraq.
"SO COOL HE COULD WELL BE THE ANSWER TO GLOBAL WARMING. GLORIOUSLY FUNNY" Scotsman
Aside from his work as a comedian, before lockdown Tom made a venture in serious acting and featured in a BBC drama The Grey Area (directed by BAFTA award winning director, Garry Anthony Frazer), which is about escaping addiction and gang violence in Edinburgh. Along with The Grey Area, Tom has appeared in the critically acclaimed Canadian sitcom The Newsroom and the award-winning feature film My Own Private Oshawa.
"SACK LOADS OF CHARM. POISE AND FREE-FLOWING SPONTANEITY. MISCHIEVOUS, HIGH-SPIRITED, NO-NONSENSE STAND-UP FROM AN EXPERTLY SKILLED PRO." Chortle
As seen on Live at the Apollo (twice!), Channel 4's Comedy Gala, Mock The Week, Michael McIntyre's Comedy Roadshow, BBC One's The John Bishop Show, Dave's One Night Stand, Comedy Central's The Comedy Star, ITV 2's Comedy Cuts, and Lee Mack's All-Star Cast to name a few.
"FRESH AND ENDLESSLY FUNNY. SLICK, INTELLIGENT, SPARKLING CHARM" Independent