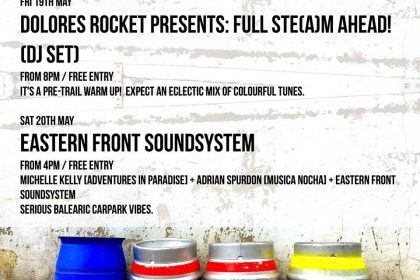 Back in January 2014, Wildcard Brewery started trading from an unassuming industrial estate in Walthamstow, East London.
The micro brewery is housed in a large barn-shaped building flanked by a couple of MOT garages and a sprawling gravel car park. Not the most alluring destination and one that conjures up memories of old illegal raves many moons ago.
But against all odds, this fledgling business has been a storming success story and the venue have hosted some amazing events with acts such as Mad Professor, Alex Patterson of The Orb and Sonic Youth's Thurston Moore all playing live.
In addition to holding numerous fund-raising events, the brewery have always promoted local talent including Walthamstow DJ collective Eastern Front, who have been entertaining the locals before the locals even knew what the place was.
This Saturday, 20th May, they're at it again- this this time with support from one half of dj duo Adventures in Paradise, Michelle Kelly and Adrian Spurdon of Musica Noche and personal trumpet-blowing infamy.
Expect plenty of disco oddities, curve ball sounds and a fine selection of beer.
Starts at 4pm until midnight.
www.facebook.com/wildcardbrewery/