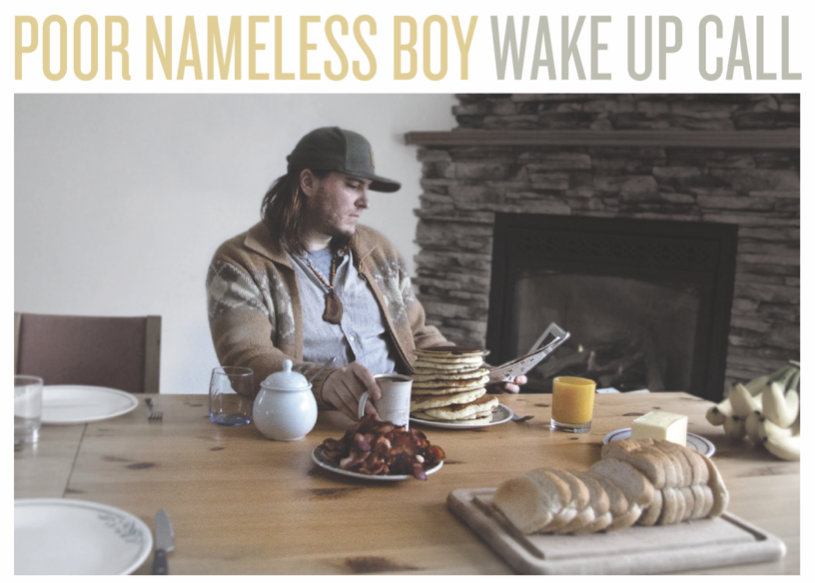 Canada's Poor Nameless Boy will play London this November – hot off the back of releasing his latest EP Wake Up Call to UK audiences on Friday 25th October 2019. 
With his shiver-worthy vocals, reminiscent of Donovan Wood and Gregory Alan Isakov, Canada's Joel Henderson, aka. Poor Nameless Boy, will not only showcase his beautifully unique vocals and lyrical prowess to UK audiences, but it will also be the first time he will take his full band on the road in the UK.
The combination of his haunting melodies, honest and heartfelt lyrics alongside his beautiful vocals will undoubtedly resonate with a diverse UK audience, attracting fans of folk, indie and the singer-songwriter genre.
Henderson's striking grasp of life's complexities is mirrored by a pure modesty, allowing listeners to immerse themselves into the stories, songs and experiences of Poor Nameless Boy without pretence. With no desire to be seen as a brand or commodity, his humanistic proposition is entirely irresistible, and as a songwriter, effortlessly engaging.
Joel, aka. Poor Nameless Boy, said: "I love performing in the UK, I've only ever played as a solo artist here in the past so I can't wait to let UK audiences hear my full band and bigger sound live. This is by far my biggest UK tour yet and I can't wait to visit all of these beautiful places I've heard so much about!
Since the release of Activity Book (2013), and the proceeding, stunningly beautiful and acclaimed Bravery (2016); Henderson has seen some notable milestones, including a recent publishing deal and several successful tours and showcases in Canada and Europe.Poor Nameless Boy will play the Kitchen Garden, Birmingham on Sunday 10th November.
Tickets are available to buy here.
Catch Poor Nameless Boy live at:
St Oswalds Church, Lythe, North Yorkshire on Friday 25th October
The Live Room, Saltaire on Sunday 27th October
Chapel Arts Centre, Bath on Thursday 31st October
The Green Note, London on Friday 1st November
The Steel Rooms, Brigg on Saturday 2nd November
Broadcast, Glasgow on Sunday 3rd November
Atrix Arts Centre, Bromsgrove on Friday 8th November
Flitcham Social Club, Norfolk on Saturday 9th November
Kitchen Garden, Birmingham on Sunday 10th November
What the Critics say:
"Lovely, unique, & haunting voice." – Les Siemienuk, Penguin Eggs
"Imaginative narratives woven throughout his songs that catch & hold the listener." – Natalie Dee, Permanent Rain Press
"One of the most unique and captivating singing voices I've ever heard." – Taron Cochrane, Leader Post Regina