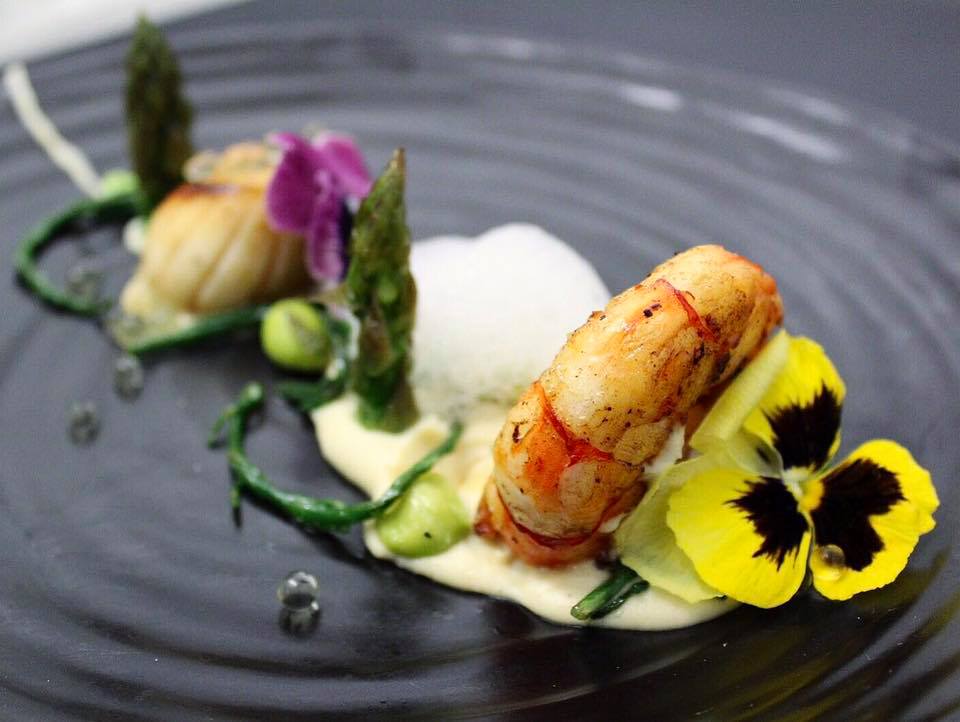 I hear you ask, how unusual can a dining experience be? I asked myself this before booking Dans Le Noir for a teambuilding exercise/something different to do with my work colleagues. My understanding on the one of a kind restaurant was to be served by partially sighted waiters along with experiencing a menu of unusual tasty ingredients whilst eating it in the dark.
Upon arrival we were asked for our name along with a drinks order, which is how everyone wants to start their experience right? The room was filled with a mixture of guests whom had just experienced their dark dining experience along with a feeling of anticipation and bubbling excitement of guests awaiting their seat in the unknown.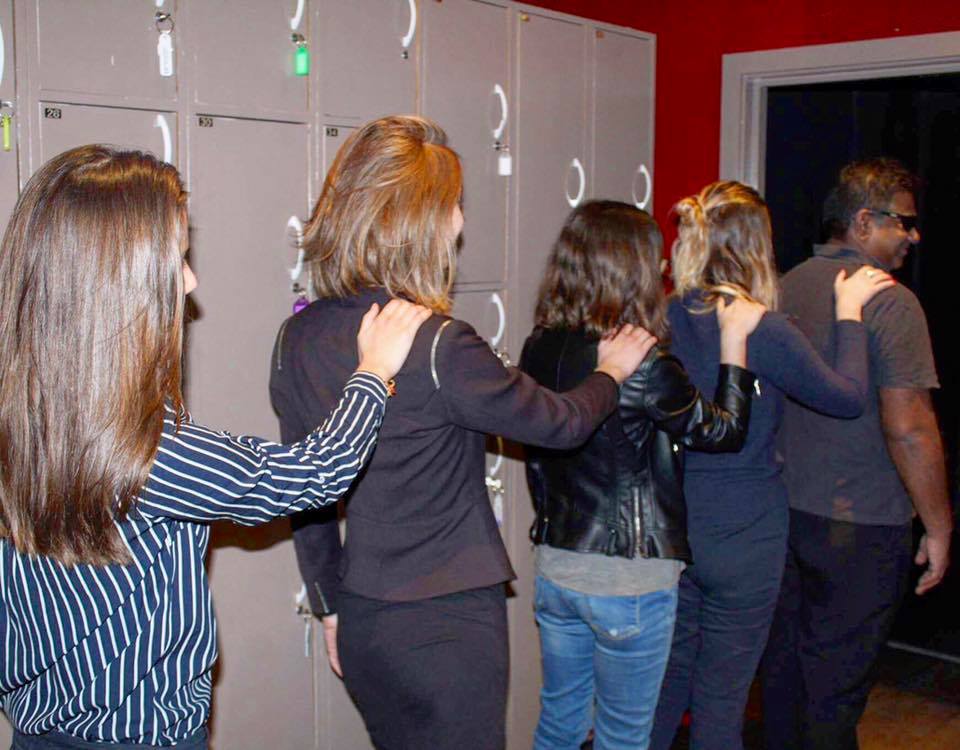 A kitsch but basic entrance in décor style, typically French. All personal belongings are to be placed in a secure locker so that your experience is not interrupted by anything from the outside world, to take your phone in there would be an insult to the establishment, which I agree with. Leave your outside troubles and distractions in the high school looking locker and completely immerse yourself, mind and body into the entrancement that awaits you.
My group were then led toward a small staircase into the pre-waiting room, we were handed a basic menu with 4 options, Fish, Vegetarian, Meat or Trust the chef. I played it safe and chose the veg option, as a previous vegetarian of 9 years I can be quite picky with certain meats and fishes. The guys in my group gave it the all I am with the Meat option and my female colleague the fish option.
A tall partially sighted waiter wearing all black greeted us with a smile and instructed us to stand in a line. We placed our right hand onto each other's shoulders with him being the lead, about to be led into complete darkness with no idea of where we were to sit, what the room looked like and how many people were already in there. We are to become completely vulnerable and trust our waiter Trevor with our balance and sight. You cannot see a thing, and I mean absolutely nothing. We sit at a small table and Trevor's smoldering voice explained where our cutlery and wine glass were situated on the table in front of us. Our first task would be to pour our own wine using a finger in the glass to engage the amount of liquid being poured to avoid any spillages. This was fun!
One of my colleagues freaked out once he was sat at his table and couldn't get his head around the whole concept apparently this happens quite a lot, being in such a vulnerable situation is not everyone's idea of fun, only for the daring. He was swiftly led out by the waiter to eat burger in chips in the pub next door, and yes, he did get a large portion of grief from us at the end.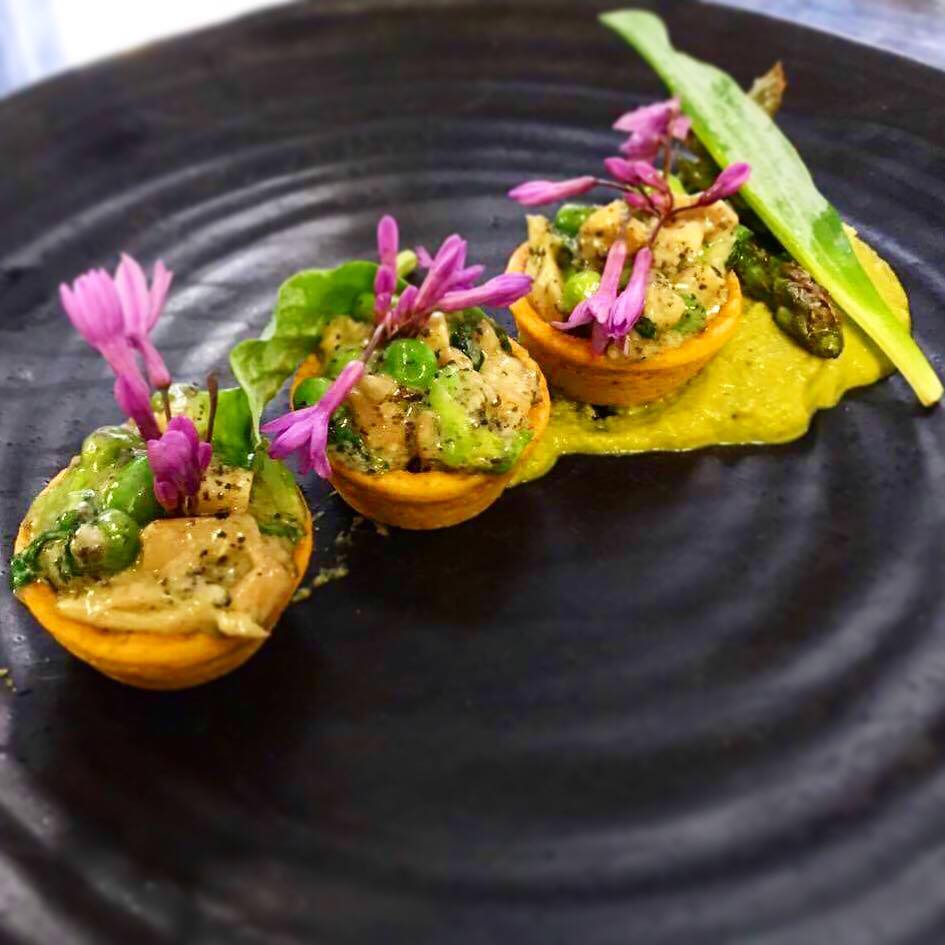 The food was served by Trevor and the idea is to try to understand the flavors using only your taste buds, eating with your hands is welcome, which I embraced as it's not something I get to do every day. I won't throw a spoiler on the menu, I will leave something for your enjoyment in your experience.
The food was beautiful tasting and felt as though the presentation was also carefully considered, which sounds strange because you can't see it with your eyes, but using my hands to touch and eat the food was a very different way to understand the ingredients laid in front of you.
Not only were we chatting between ourselves as a group but engaging with others in the pitch-black room chatting about our food, where we were from and general getting to know one of each other kind of convo. I would imagine this would be a great way to meet people also if it were an organized dating experience as your senses change completely. You are no longer judging anything by the way it looks, but only by sound and taste. The conversations were funny and enlightening to say the least.
If you would like to immerse yourself into a complete unknown tasting mind and body experience, I recommend this whole heartedly. You will not experience anything else like this in the UK, this is the only one in the UK but even if there were others to do a copycat scenario, it would not be at the finesse and precise manner in the way Dans le noir is led. From entrance to exit you are made to feel special inside and out. Book up in advance to avoid disappointment.
Review by Rachel Bambrough for Grapevine London