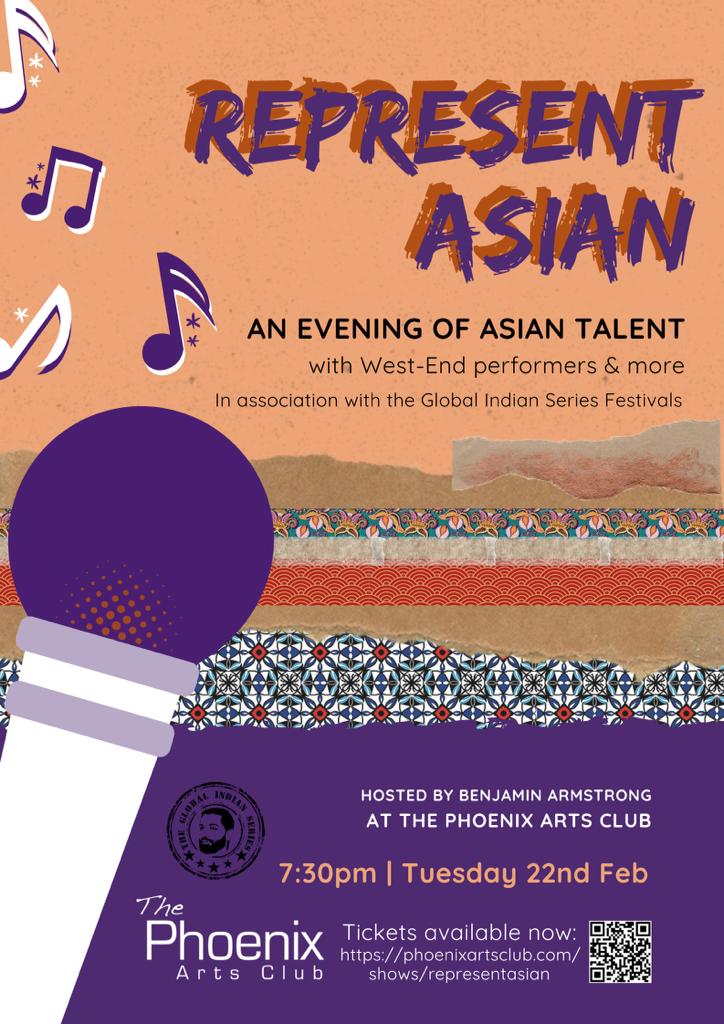 At the end of February, Global Indian Series is teaming up with The Phoenix Arts Club in London to host RepresentAsian, a musical evening celebrating diversity and Asian talent that's returning after previous sell-out shows in October 2021.
The celebratory evening will feature 10 artists that include West End performers, musicians and 2021 graduates to shine a light on some of the most underrepresented voices in the entertainment industry. The event, that Global Indian Series is co-hosting, will bring to light some of the key issues that face minority groups in entertainment and share a passion for the arts inspired by identity, heritage, and culture of people of Asian origin.
Producer of RepresentAsian, Benjamin Armstrong says, "I am delighted to be producing the second instalment of "RepresentAsian" on 22nd February 2022 at the Phoenix Arts Club, as part of the Global Indian Series Festivals.
The original concept was to create a platform for under-represented voices within the Asian community to share their talents and gifts. The first concert in October 2021, was a complete sell-out! The second instalment will feature a new set of graduates, working professionals and West End performers under the musical direction of Ben McQuigg."
Working with the event organisers at Phoenix Arts Club, Global Indian Series and Global Indian Ambassador Pia Sutaria, are continuing their work of connecting the global community and spearheading conversation and stories of minority communities across the world.
Despite the theatre industry seeing a shake-up over recent years that has seen forward movement in diversity and authentic casting choices that celebrate Black, Asian, Latino etc. performers, Global Indian Series believes that there is still a long way to go. People from minority backgrounds should be seen as equals on the theatrical stage and taken as seriously as White performers.
Rajan Nazran from Global Indian Series says, "Global Indian Series is delighted to be co-hosting such an inspiring and entertaining event like RepresentAsian. We work hard to share stories of people of Asian heritage and championing the voices of those who are often underrepresented in many parts of society – especially the music and entertainment industry. We can't wait to see everyone at the event and look forward to hearing some of the best performances the Asian community has to offer."
Tickets for RepresentAsian are available at: https://www.phoenixartsclub.com/shows/representasian
To find out more about the work that Global Indian Series has been doing for people of Indian origin, visit https://globalindianseries.com/
About
The Global Indian Series is an immersive platform that provides original and exclusive content based on the lives of people of Indian origin. Through informative and educational content, the platform is helping to connect a global community and spearhead national and international conversations.
The platform has quickly become an international movement, with support from heads of state, key political figures, leading business personalities, key cultural and religious influencers, actors, and activists from across the world.
Global Indian Series originated from the ideas of Rajan Nazran, an explorer and content producer who has spent the past decade travelling to over 58 countries to piece together the stories of people of Indian origin.