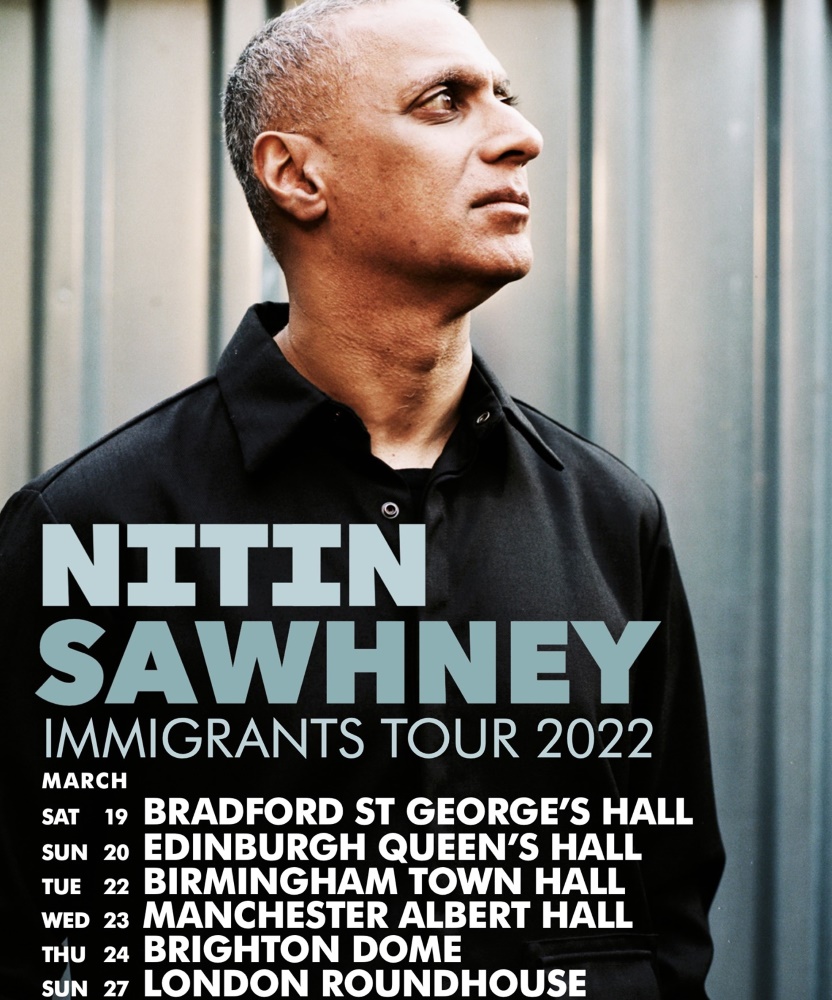 Nitin Sawhney will embark upon his 'Immigrants' UK tour in March 2022, following on from the success of his most recent album of the same name.
Beginning at Bradford St George's Hall on 19th March ( a show that was originally planned for Leeds Town Hall but moved due to its current refurbishments), the tour will call at Edinburgh, Birmingham, Manchester, and Brighton before its finale at the London Roundhouse on 27th March.
Nitin Sawhney is one of the most distinctive and versatile musical voices around today, achieving an international reputation across every possible creative medium. His endless creative curiosity in the worlds of music, film, videogames, dance, and theatre have made him a formidable polymath across the whole artistic range of media associated with the music industry.
With over 20 studio albums to his name, including solo albums, film soundtracks and compilations, along with over 50 film scores, he has received a substantial number of major national and international awards for the work, including the Ivor Novello Lifetime Achievement award.
Released last year, 'Immigrants' is the official sequel to Sawhney's seminal 1999 mercury nominated album 'Beyond Skin'; and garnered similar critical acclaim.
The Wire called the 'Immigrants' 'A seductive and persuasive look at the lives and human struggles those in power would rather you ignored and disdained', Uncut magazine hailed the album as 'A fascinating tableaux… the musical polymath gives voice to the dispossessed', and The I praised it as 'compassionate, thought-provoking, and essential'.
The album is a unique celebration of immigrants around the world and showcases works inspired and contributed to by artists who either identify themselves as immigrants, are from immigrant heritage, or wish to express support for those international immigrants who have found themselves judged or disadvantaged by pure accident of birth.
Nitin recently created 'Ghosts in the Ruins', a new commission for Coventry UK City of Culture, marking the 60th anniversary of the consecration of the Cathedral.
Special guest for the 'Immigrants' tour will be soul-reggae crossover artist, Natty.
Discovered performing on the open mic circuit, San Francisco born and London raised Natty was signed by Atlantic Records, and following a performance on BBC's Later with Jools Holland, his UK top 20 debut album 'Man Like I' introduced the world to his unique voice and writing ability.
Among Natty's career highlights include a number 1 single in Japan (Badman), voted best world music act at the Independent Music Awards, touring every continent bar 1, headlining an unauthorised show in front of thousands in Khartoum, and performing in the U.N building on World Humanitarian Day alongside Beyonce.
Tour Dates
March 2022

19th March Bradford St George's Hall
20th March Edinburgh Queen's Hall
22nd March Birmingham Town Hall
23rd March Manchester Albert Hall
24th March Brighton Dome
27th March London Roundhouse