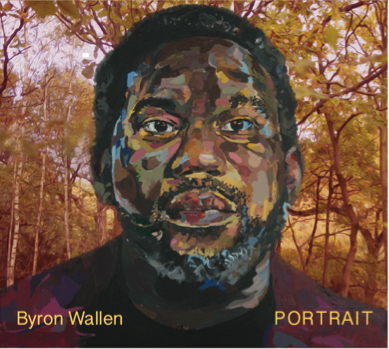 Summer 2021 marks the UK tour of Portrait: Reflections On Belonging, the new and much anticipated album from innovative UK trumpeter Byron Wallen. Having been struck by the mix of cultures in his home borough of Woolwich in South East London, Byron Wallen was commissioned by the PRS Foundation to compose a special piece based on his experiences entitled 'Anthem For Woolwich', which won widespread critical acclaim from critics, peers and music fans alike.
The new album Portrait, Wallen's first recorded release in 13 years, became an endeavour that flourished from the same source, resulting in an imaginatively constructed musical exploration into ancestry, diasporic journey and the cultural roots of contemporary and indigenous cultures. Byron explains: "Sitting in the central square in Woolwich one day, I was struck by the vibrant and wonderful people. The mixture of cultures and nationalities was so unique. Shortly after the event, PRS For Music Foundation commissioned me to put this observation into music creating a lasting homage to the area. The project, which ultimately led to this album, deepened my artistic and personal relationships with my immediate surroundings and community."
Portrait is further enhanced by Wallen and his band's personal engagement with his local surroundings through teaching, workshops and ultimately collaborations. Special guest vocals from classes 3G and 3H of Plumcroft Primary School resonate on several tracks and perfectly demonstrate the theme of community spirit that runs throughout the album. The band will tour the UK in 2021 and hope to replicate the same level of social synergy wherever their live shows take them.
Byron Wallen's music is distinctive and individual, also inspired by his experiences with musicians on his travels around the world, including countries such as South Africa, Uganda, Zimbabwe, East Africa, Morocco, Nigeria, Indonesia and Belize to name but a few. These diverse experiences have undoubtedly influenced Byron's creative output, and the fact that he combines this with true and desirable elements from the jazz tradition really make his music stand out as an inimitable, one of a kind sound.
Having studied with luminaries such as Jimmy Owens, Donald Byrd and Jon Faddis, as well as being a go to trumpet player for the likes of George Benson, Chaka Khan and Hugh Masekela and also a contemporary of Andrew Hill, Mulatu Astatke and King Sunny Ade, Byron Wallen is a revered and respected musician in jazz, world music and beyond. His Gayan Gamelan project have recently attracted much attention for their adaptation of Boards of Canada's seminal album Music Has the Right to Children, the sensitivity of the compositions marrying beautifully with Wallen's orchestration of the gamelan sound.
On Portrait Byron Wallen plays the trumpet, flugelhorn, shells and percussion. He is accompanied by a killer band with Rob Luft on guitar, Paul Michael on bass and Rod Youngs on drums, with congas and taking drums from Richard 'Olatunde' Baker. The overall result is a sublime listen, ultimately providing hope and inspiration by way of creativity, diversity and unity.
PRIVATE STREAM OF PORTRAIT: REFLECTIONS ON BELONGING:
UK TOUR DATES:
| | |
| --- | --- |
| Date | Venue |
| Sun 13.06.2021 | Legends Festival Birmingham |
| Thu 17.06.2021 | 7 Arts Leeds |
| Fri 18.06.2021 | Crookes Social Club, Sheffield |
| Tue 22.06.2021 | Chester Playhouse |
| Sat 26.06.2021 | Ipswich Jazz Festival |
| Mon 04.10.2021 | Stoller Hall & The Yard, Manchester |
| Tue 12.10.2021 | East Side Jazz, Leytonstone |
| Thu 14.10.2021 | The Plough Arts Centre, Great Torrington |
| Fri 15.10.2021 | Dorchester Arts Centre |
| Sat 16.10.2021 | Ashburton Arts Centre |
| Wed 10.11.2021 | National Centre of Early Music, York |
| Thu 11.11.2021 | Bonington Theatre, Nottingham |
| Sat 13.11.2021 | The Hive, Shrewsbury Jazz |
| Sun 29.11.2021 | Cambridge Jazz Festival |