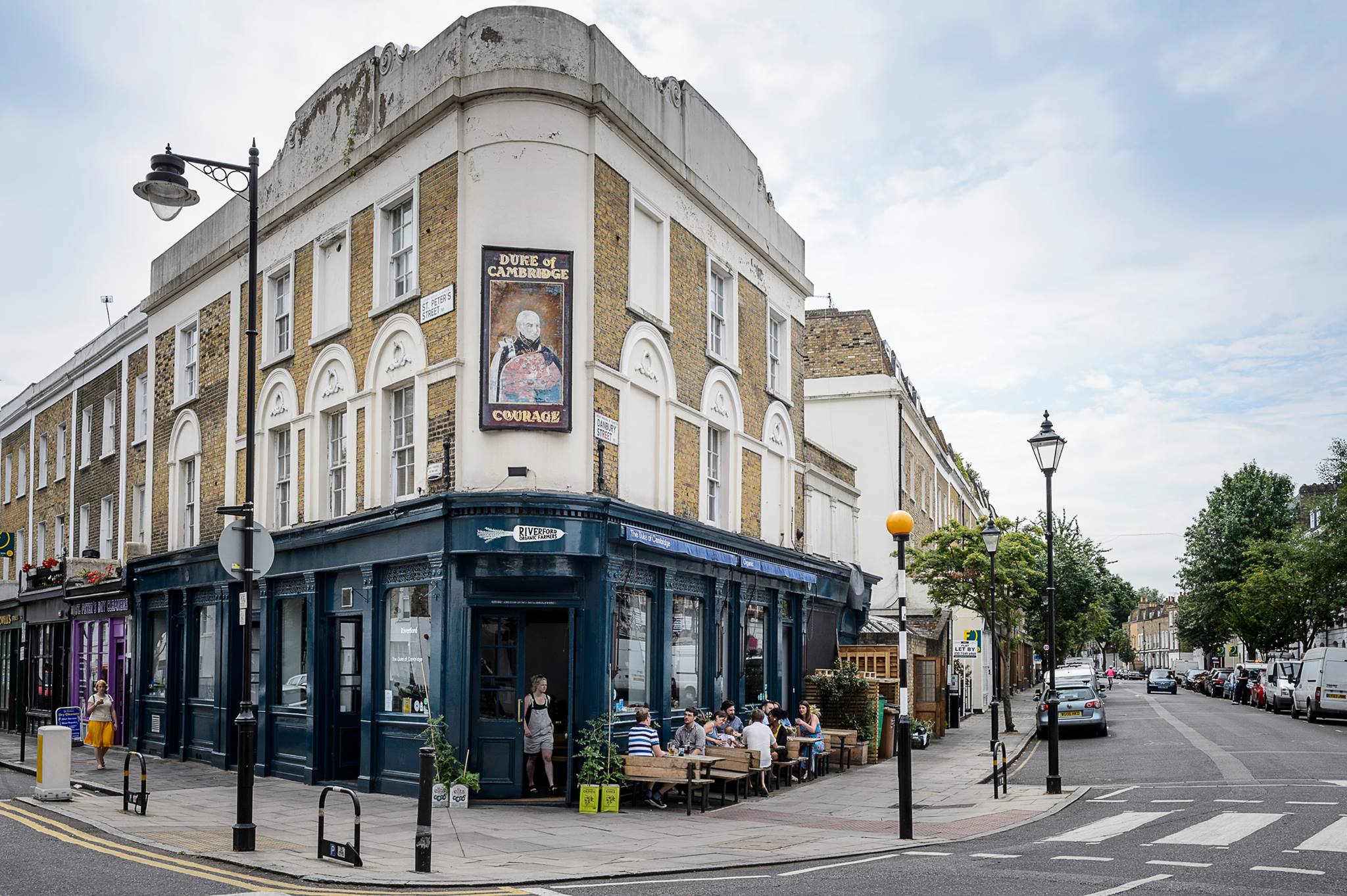 Happily, more and more people are making more conscious decisions when eating out and are choosing eco-friendly and sustainable options. London is at the forefront of this tide, with cafes, bars and restaurants offering menus with seasonal and no waste dishes and finding alternatives to single use plastic.
Here is a mixture of sustainable eating options, from luxury dining, to fish and chips, coffee shops and zero waste supermarkets with delightful menus and eco-friendly consciences.
The Duke of Cambridge in Islington proudly boasts its title as Britains first and only certified organic pub. The pub linked up with Riverford in 2014, the well-known company which delivers around 47,000 beautiful veg boxes a week to its members. Committed to minimising their environmental impact, Riverford at The Duke of Cambridge uses 100% organic ingredients and the à la carte menu changes each day based on what is best in their fields and food waste from the pub is sent to anaerobic digestors to be turned into energy.
T.E.D. Restaurant is found in London's King's Cross with a menu full of ethically sourced, sustainable British produce, and an interior design using repurposed and salvaged furniture. Their drinks list contains English, biodynamic, carbon neutral, and traditional options whilst an important aspect of their dishes are seasonal and ethically sourced ingredients. The T.E.D Community is a network of companies which supply products and services to each other providing the restaurant business with a different, ethical approach to supply chains.
For responsible luxurious dining, the Petersham Nurseries located in Richmond and Covent Garden are proud of their green outlook on the dining business. Covent Garden hosts the Petersham, an elegant restaurant dressed with their own organic flowers, serving afternoon tea and a pre-theatre menu alongside their a la carte menu, as well as La Goccia which serves Italian inspired dishes and the Delicatessen, which sells responsibly sourced products. Petersham Nurseries defines its vision as a natural, thoughtful, respectful, nurturing and visionary business which commits to many different methods of reducing waste, such as through trialling an aerobic food digester in their Covent Garden store as well as turning their coffee waste into biofuels. They also send their wine corks to Recorked, a company which resells the corks or sends them to charities and schools to be used in craft activities. Finally, their takeaway and Delicatessen packaging is 100% biodegradable including compostable takeaway boxes and napkins made from recycled paper to favouring glass bottles for their homemade almond milk.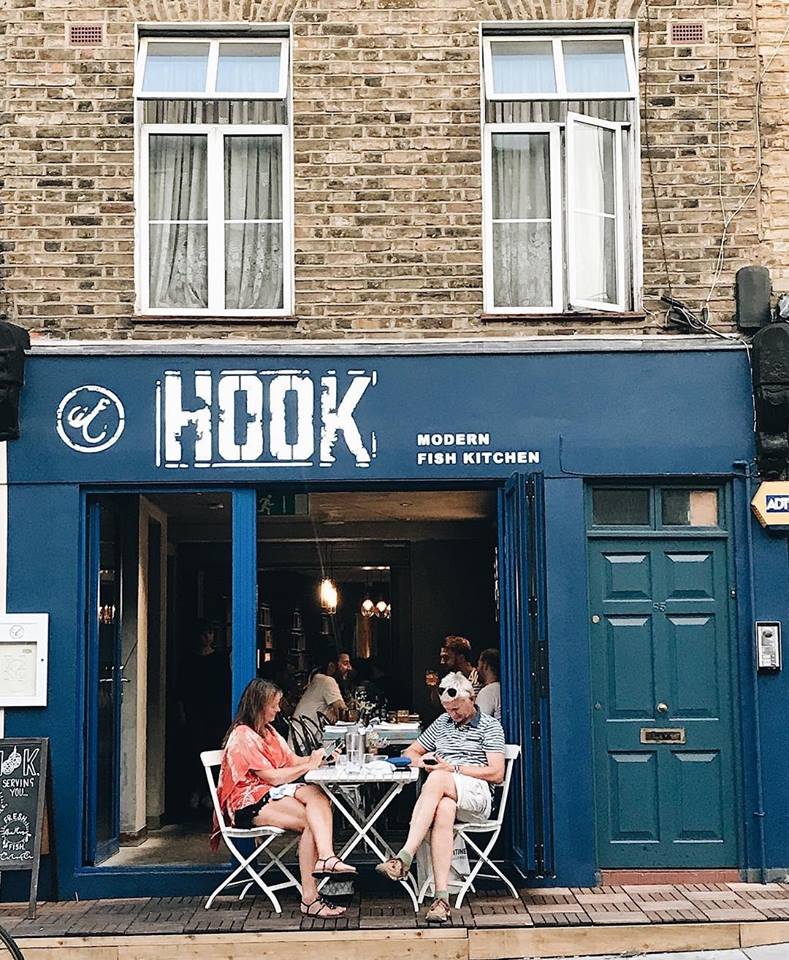 Hook Camden is the place to go for sustainable fish and chips; with produce from 100% sustainable small fisheries to using day boats and local suppliers, the restaurant's aim is to ensure sustainability and responsibility in all that they do. They also serve food using recycled, re-usable, wooden packaging as well as take-away cutlery which is made of 100% biodegradable corn starch.
Bean & Wheat coffee shop and deli on Liverpool Street was founded by Adam Handling who has a 'no waste' philosophy, which means they have a daily changing menu. Dishes are made using off-cuts and by-products from the kitchen at The Frog E1 (also owned by Adam Handling), whilst salads made using vegetable offcuts are also on offer.
Genesis is a 100% plant-based restaurant creating organic and healthy comfort food. Their Instagram page is loaded with mouth-watering pictures of hot dogs and other street snack inspired dishes. Genesis is opening up on the 11th September so set a reminder for your first visit (of many!)!
Not only is Borough Market a feast for the eyes and stomach but also holds a firm commitment to the environment. The Market ensures all possible waste materials are and give surplus food to charities through the FoodSave scheme run by the charity Plan Zheroes. Any remaining food waste is sent to an anaerobic digestion plant. Traders aim to use bio-degradable and compostable packaging, and the market uses low energy lighting and collects rainwater for the plants inside Market Hall. Importantly, Borough Market also uses its prestigious name to encourage the exploration of alternative methods of food production and consumption.
Hetu is a zero waste vegan food shop where you can find fantastic ingredients without the plastic packaging that comes with it in most supermarkets. Keep an eye on their website which keeps an updated list of products which you can choose and take home in your own, reusable containers – what an aesthetically pleasing way to shop, not to mention reducing our plastic consumption!
Finally, for anyone looking for a sustainable meal out in London (or other big cities for that matter), it would definitely be worth checking out the Sustainable Restaurant Association's (SRA) website which highlights different restaurants, cafes and pubs who have all committed to better serving the planet and local community. With helpful icons and explanations, this quick and easy to use website is the best way to inform your sustainable eating.
Article by Imogen Burgoyne