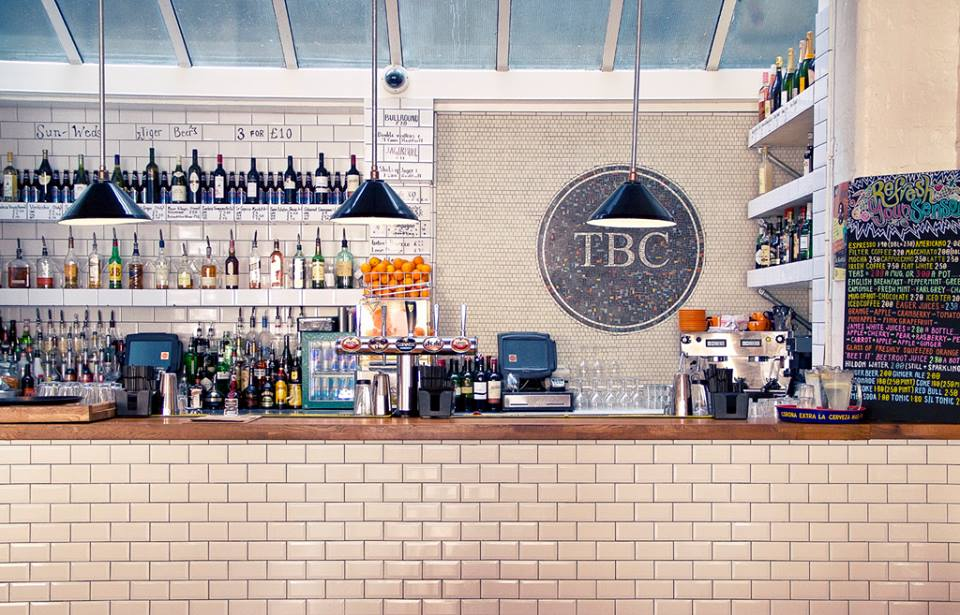 Shoreditch is one of the favoured central hangout spots of the moment. With a great mix of quirky, lively, classy and cosy, we've put together a list of our favourite spots for a drink in Shoreditch.
The Book Club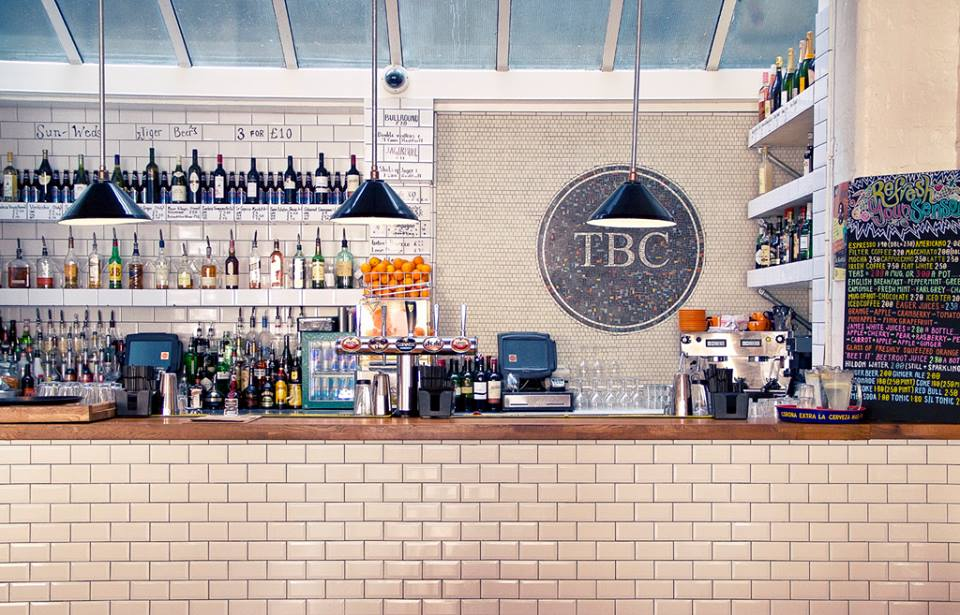 This is probably the first bar that comes to mind for a lot of people when asked 'Which bars shall I go to in Shoreditch?' And rightly so, because it is a really cool and chilled place. The minimalist yet quirky interior provides the perfect place to come and work and grab a bite to eat in the day, but by night the venue is transformed. Weeknights are all about 'thinking and drinking' events covering the spectrum of food, music, film, design and more. On the weekends the space is transformed yet again into a late-night club with events featuring local DJs as well as high profile artists like DJ EZ, Craig Charles and Norman Jay MBE. Find out more here.
Barrio Shoreditch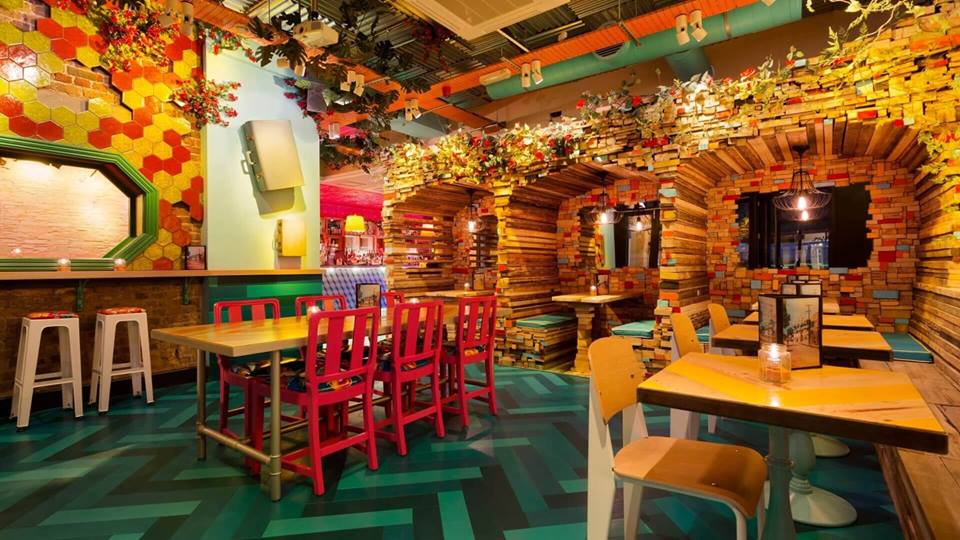 Barrio is a Latino hangout with a seriously cool vibe! Latin American street food, music and inspired decor all combine to create a fun and feel-good atmosphere. The space is brightly decorated without leaving a single surface untouched. There are so many different Latin styles packed in, from the painted picnic tables in the outside area to the shanty town inspired booth areas. One area even features wallpaper printed with lemurs! The cocktail creations include the classics as well as lots of South American inspired flavours. There is also a Mexican food menu including lots of small plates and sharing platters. Find out more here.
Callooh Callay
If you consider yourself a cocktail aficionado then Callooh Callay will be right up your street. The award winning bar boasts titles such as 'Best International High Volume Cocktail Bar,' 'World's Best Cocktail Menu,' and have even won two of the coveted Spirited awards. The menu features a selection of decadent cocktails, each taking you to a different paradise from around the world. The 'Devil Inside' is like a minty Pina Colada and the 'Schezuan Ce Soir,' could almost be a Bloody Mary with an Asian kick. Music is of equal importance as drinks at this venue, and a mixture of chilled indie vibes and old school classics create an understated cool atmosphere. Find out more here.
The Owl and Pussycat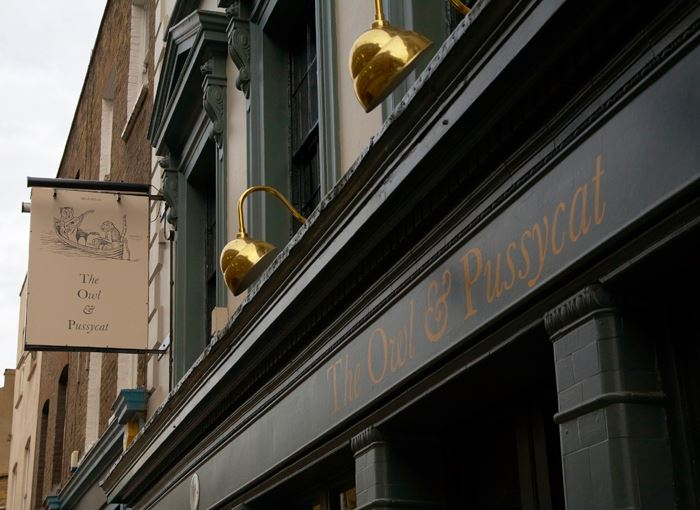 Walking into The Owl and Pussycat feels like going back in time, with the quaint decor and cosy feel of the venue. Dark wood, antique furniture and distressed walls. This pub is perfect for a relaxing drink with friends in a cosy atmosphere, but the food offering is brilliant; enjoy a traditional Sunday roast or even a hearty brunch. The venue gets a little more lively of an evening but is still perfect for catching up with friends or dates. Find out more here.
Strongroom Bar & Kitchen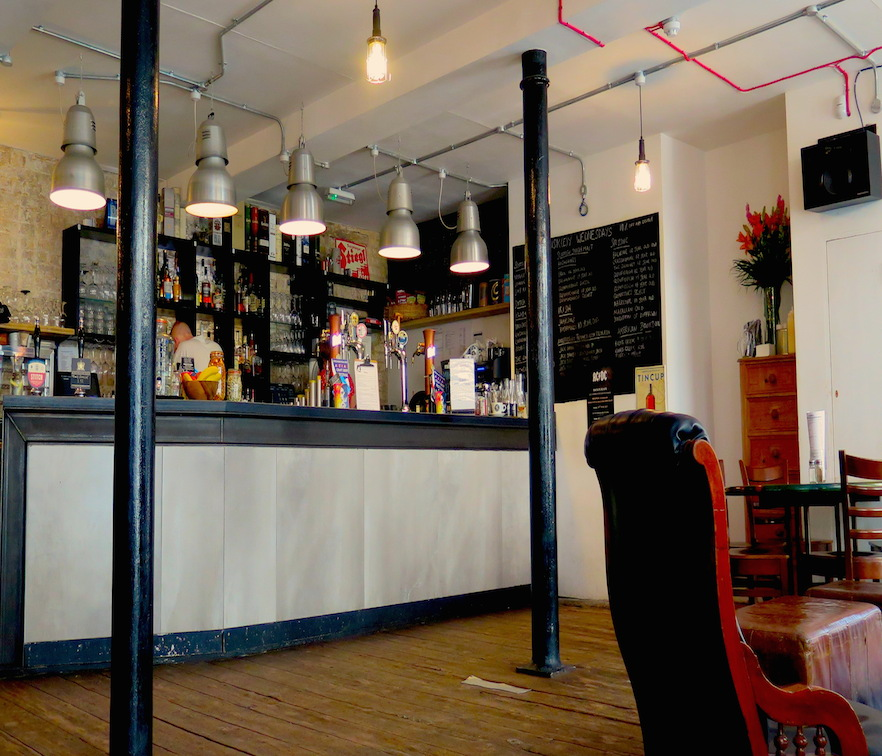 A trendy bar/pub split across two levels, where DJs play live music and there is a lovely outside seating area that's always buzzing. The events held at Strongroom are not limited to music events, but include movie nights and standup comedy as well, perfect for  fun-loving and curious souls. Strongroom's drinks selection is impressive and will appeal to those fond of a more traditional tipple, with over 40 different whisky's and 14 gins to choose from. Whatever your music taste you can dance the night away at Strongroom, with music events ranging from late night DJ sessions to live performances from local bands. Enjoy breakfast or lunch at Strongroom (we recommend the fresh pretzels) and make sure to check out when the food pop-ups are being hosted here! Find out more here.
Queen of Hoxton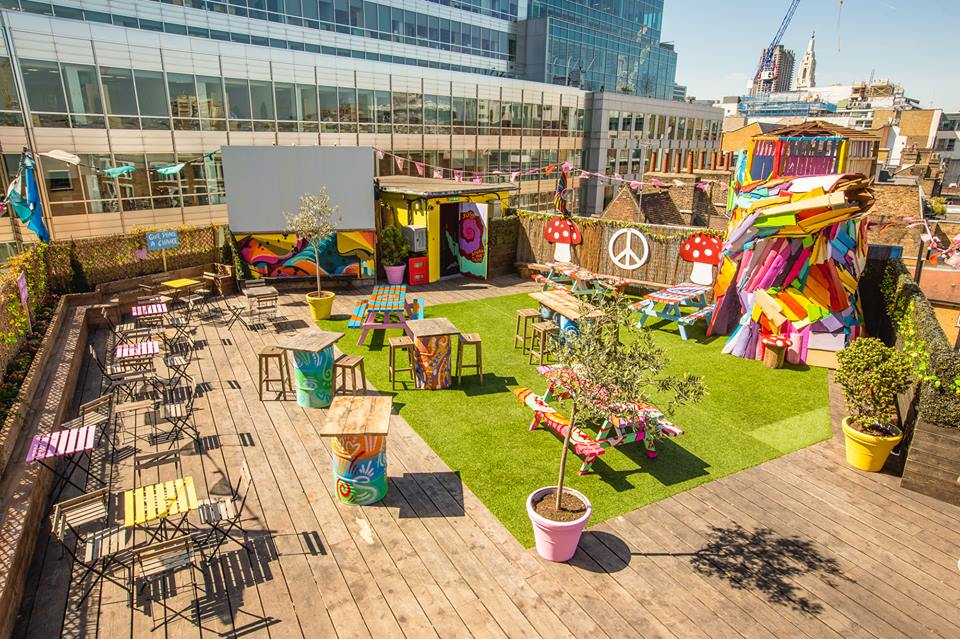 Birmingham Grapevine readers may have already heard of the Queen of Hoxton, as an event recently took place there hosted by our very own Ouse guys. This venue is a bar with a difference, holding weekly parties with live DJs and there is a beautiful roof terrace, perfect for day drinking in the rare English sun. It's worth checking out the event page on their website to see what takes your fancy, but even if you just turn up you're bound to have an awesome night! Marvel fans will rejoice at the Skye Halla menu featuring themed cocktails, each one with the option of being made virgin. The Ground Floor Bar menu features all of the classics and more for a slightly higher price. Find out more here.
Bar Kick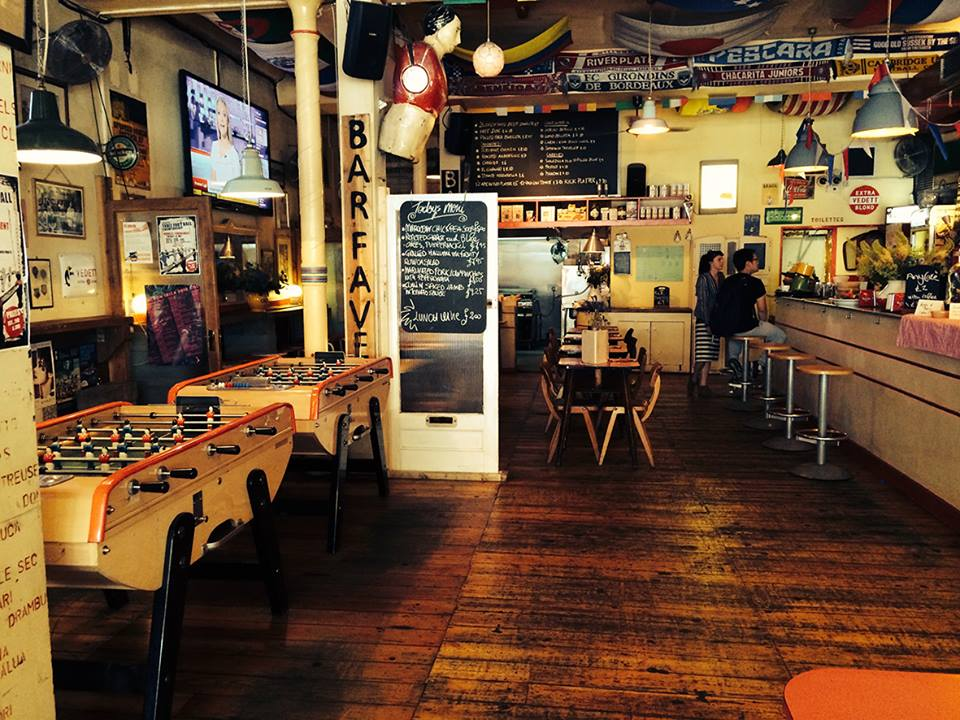 A firm favourite with the University students of London, the dimmed lighting juxtaposes the colourful decor featuring flags from all over the world adorning the ceilings, and French Table football tables that have been there since day one. Unsurprisingly Bar Kick is a great venue for watching live football matches whilst enjoying a drink during Happy Hour (every day 4pm-7pm). Overall a really friendly vibe with reasonably priced drinks and delicious food.  Find out more here.
Trapeze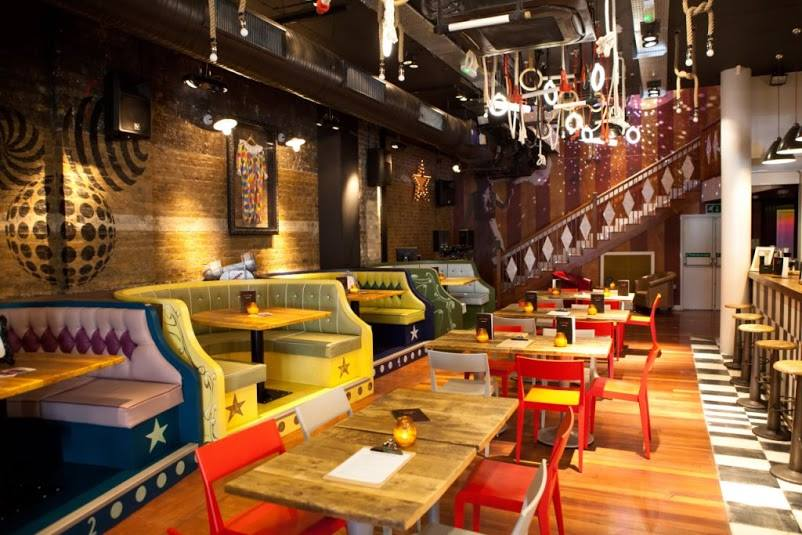 Inspired by the nearby National Centre for Circus Arts in Hoxton, the interior is awash with circus-themed decoration and embellishment. Entertainment is at the forefront of Trapeze's offering, with separate events held throughout the week across the Basement Club and Bar. The extensive circus themed cocktail menu lists fun concoctions such as 'The Contortionist' and 'Snake Charmer'. There is also a food menu featuring burgers and sharing platters. Hip Hop lovers should come along on Fridays and House heads on Saturdays, although the venue has played host to artists from a variety of genres including James Zabiela, Marshall Jefferson and Richy Ahmed. Find out more here.
Hoi Polloi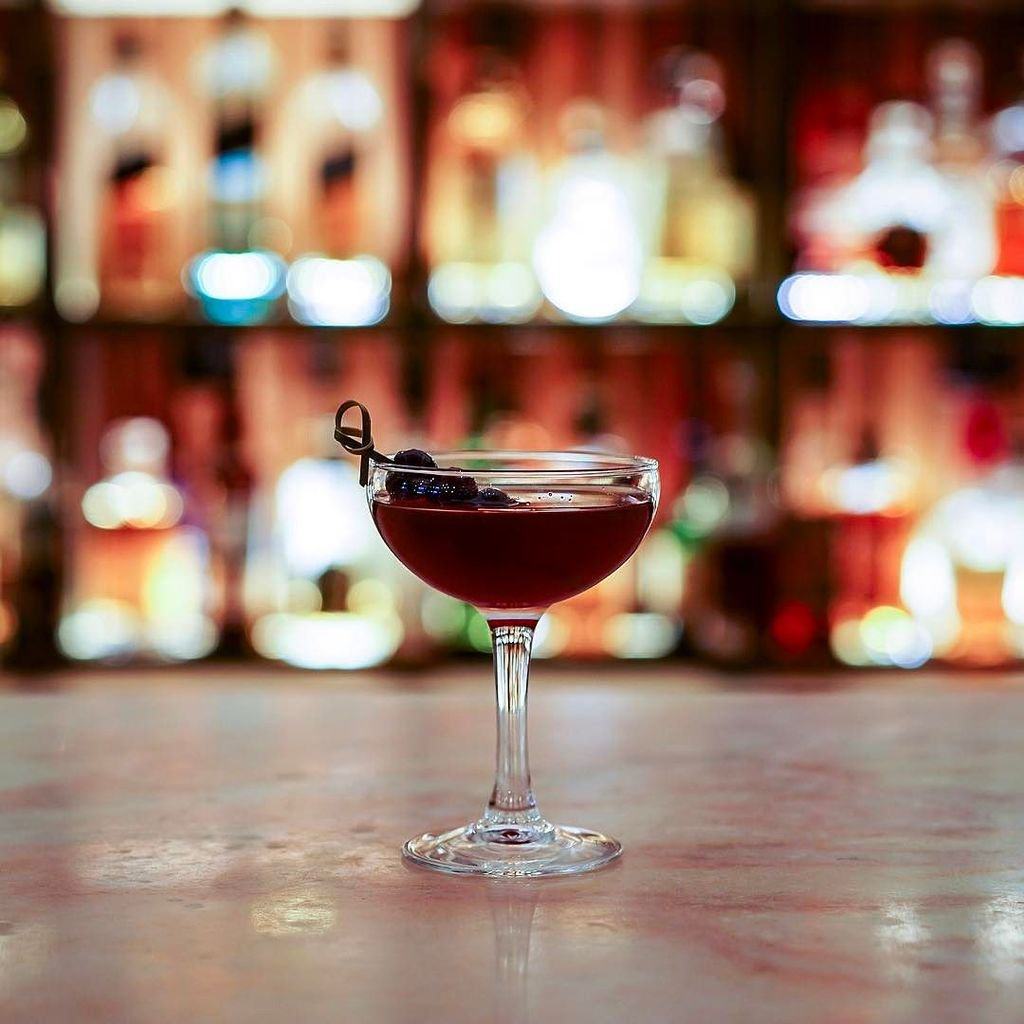 As its name might suggest, Hoi Polloi is definitely on the more upmarket end of the scale on this list but is still a great place to hang out nonetheless. The venue describes itself as a 'modernist brasserie,' which is pretty fitting when looking at the décor of the bar located in the Ace Hotel. Hoi Polloi almost transports you to a hipster bar in New York, with its quirky cocktail names like Naff Clobber from the three menus: Aperitifs, Breakfast Cocktails and Drinks for Afters. If you're an avid fashion follower and find yourself in London hoping to run into designers and models, Hoi Polloi is the place to be. Find out more here. Find out more here.
London Cocktail Club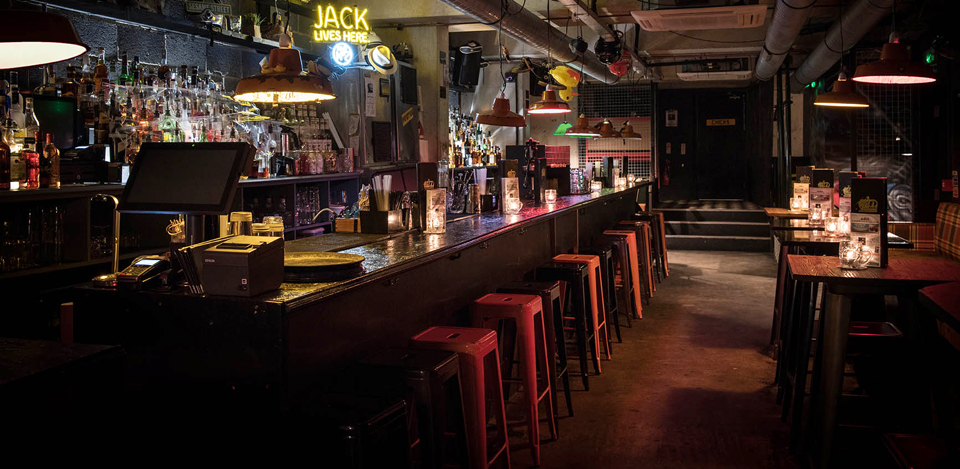 A grease monkey garage; LCC Shoreditch just so happens to be spitting distance from Box Park. Nestled in between Bethnal Green Rd, Shoreditch High St and Brick Lane. Follow the industrial metal staircase down and get hit with the imposing 40ft x 60ft wide wall mural by 'Dirty Hands Co.' biker hell inspired! Downstairs into the basement a classic LCC you'll find. A Mod/ Rocker mash up of biker jacket themed couches, think black leather, studs, green velvet and plaid. This biker themed bar is a blend of British Americana with an impressive American Whiskey selection. Try the sexy 'Smoking Barrel' made with single barrel Jack Daniel's. Sit at the bar and watch as they use the smoking gun filled with hickory wood chips to create this visually inspiring drink. As ever the menu is a quirky mix of LCC. Find out more here.
Merchants Tavern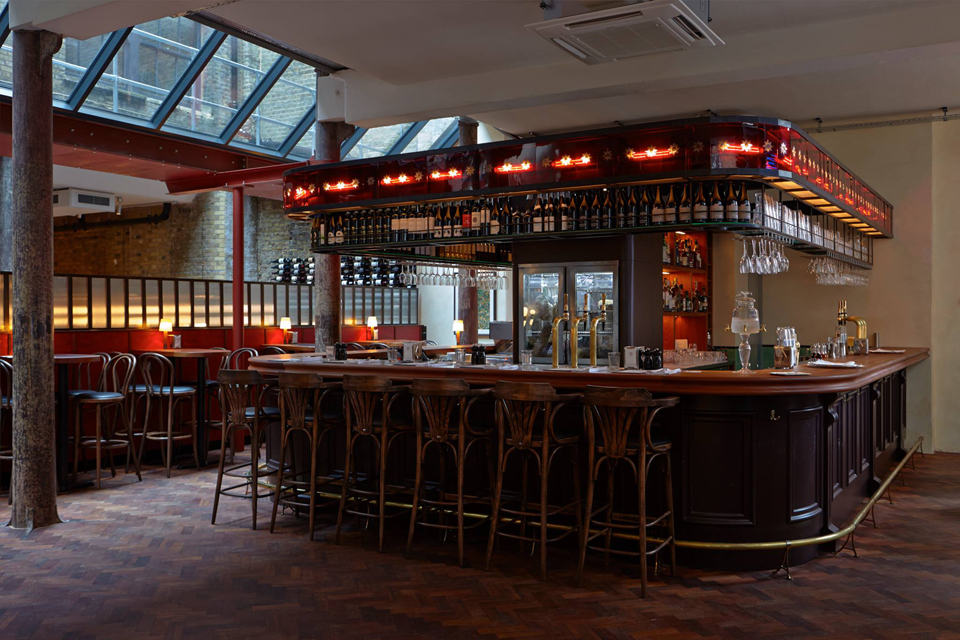 A modern twist on the traditional tavern, with European influences and British charm. The main thrust of Merchants Tavern is the beautiful restaurant, however, the bar is also worth checking out, as the birthplace to the ultra cool muso's heaven 'Spiritland' in King's Cross. The Merchants Tavern bar is open from 11am – 12am Monday to Saturday and 11am – 10pm on Sundays. They have good beer on tap and by the bottle, exceptional wines, as well as small plates, charcuterie and toasted sandwiches to keep you going. A place to eat, drink, relax and listen to great music with well known guest DJs on at weekends, with the likes of Alexis Taylor (Hot Chip) and John Coxon (Spiritualizd) gracing the decks. Find out more here.
The Boundary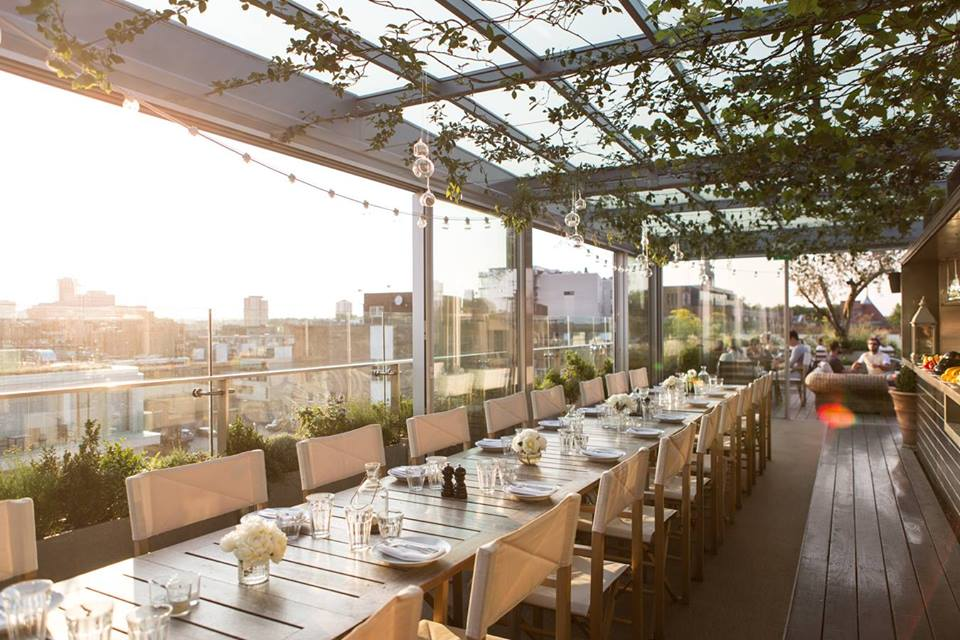 Last but not least we have The Boundary. Comprised of three restaurants and bars, twelve bedrooms and five suites, as well as a British food store and a bakery, The Boundary is a great place to stay or visit if you're in London on a one-off trip or just for the weekend. Those who appreciate art and design will love the vibe here, and in particularly we recommend checking out The Boundary Rooftop with its heated orangery. The drinks menu features a selection of seasonal cocktails, signature Rooftop recipes, classics, gin concoctions and fresh juices. Sit out in the sun sipping your drink amongst the trees whilst enjoying some British oysters and shellfish, The Boundary is the perfect place to visit for a treat. Find out more here.
Shoreditch still firmly holds its ground as one of the trendiest and youngest areas in London. With such a wide variety of fun, cool and upmarket bars, it's definitely a great place to grab yourself a drink if you get the chance.
Article by Isobel Owen for Grapevine London