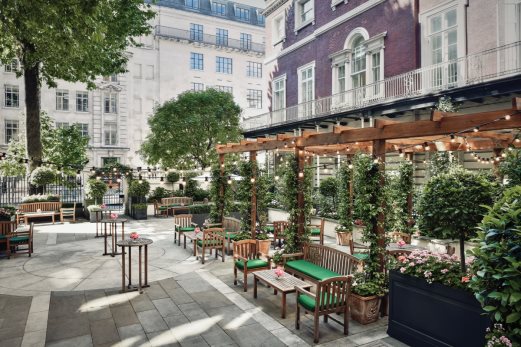 London will be transported from inner-city concrete jungle to the European headiness of the Alps by The Curling Club. In two iconic locations, The Curling Club is bringing flamboyancy, frolics and festivities to The Langham, London from 20th November – 20th February 2022 and in Finsbury Square from 1st to 19th December 2021. The Curling Club will be a once in lifetime event for you, your friends, colleagues and business networks.
Drenched in après-ski vibes, the glistening pistes of the Alps will now lie in Finsbury Square and The Langham, some of the most iconic and legendary locations in London. Attendees at both locations will be joined by current Team GB Skip and 3 time Olympian, Eve Muirhead MBE, who will be on hand to glide party-goers to a clean sweep. With curling rinks at both venues, the quintessentially British sport will be played in short form, allowing people from all backgrounds to try and conquer this suspenseful game. Competitive socialising at its most masterful, The Curling Club is open to corporate bookings as well as the general public.
Situated in a spectacular courtyard, The Curling Club will transform The Langham into a festive wonderland complete with entertainment and alpine infused street-food. From January 2022, The Curling Club will welcome guests to a winter-sport city escape celebrating the Winter Olympics and continuing the alpine, après-ski vibe. There will be three ice rinks in the courtyard, allowing groups of six to take part in the game at any one time. Fully customisable and the ability to host groups from as small as six people to 150, The Curling Club presents an opportunity to be part of an unforgettable bespoke experience. Guests are invited to attend every day from midday until 10 pm.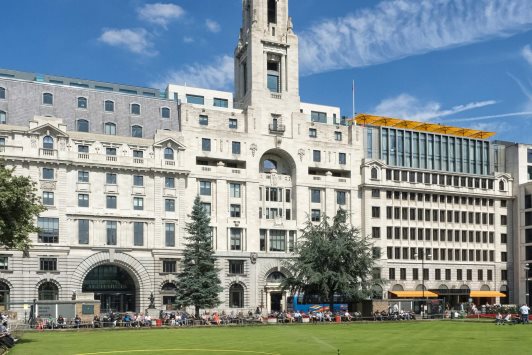 The second location for the pop-up is Finsbury Square, London which has a 500 person capacity and 10 curling rinks, allowing groups of eight. Open every day from midday until 11 pm and conveniently located near Moorgate Tube Station, The Curling Club will be the ideal destination for festive party bookings. Catering for groups of all sizes, guests will be treated to wintery drinks, alpine infused street food, DJs and magicians.
Eve Murihead MBE commented on the announcement of the locations, "The Curling Club is the perfect opportunity to experience the intense and suspenseful sport that is curling. Team GB's success at the Olympics has contributed to curling's growing popularity and I am so proud to be part of this event. I can't wait to meet everyone at both of these fantastic venues."
Will Goy, Director of Events at The Curling Club, spoke about the latest venue news, "Finsbury Square is a superb outdoor space and the majestic backdrop of the city will add even more flair and splendour to the first-ever Curling Club. The ongoing partnership with The Langham is also fantastic to see. It could not be more fitting to have such a quintessentially British landmark host such a quintessentially British sport. We can't wait for everyone to join us for what will be an unforgettable festive season."
The Curling Club will be at The Langham London, from 20th November 2021 until 20th February 2022 and at Finsbury Square from 1st to 19th December 2021. Tickets are on sale now with a range of price packages to suit all booking types. Visit https://hastaworld.com/events/#curling