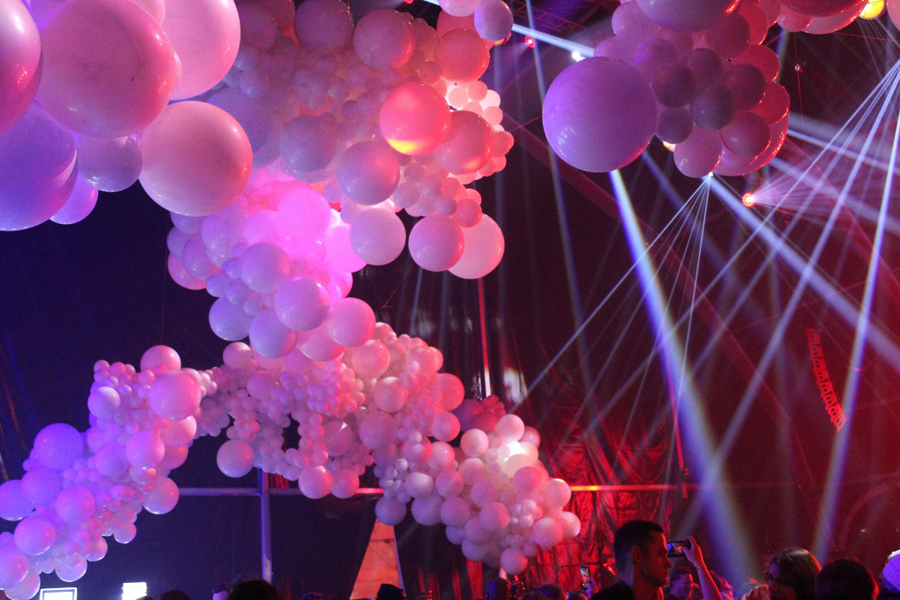 An unimaginable experience with panoramic views in its unique natural beauty, dramatic surroundings. An environment where all are welcome whether you have a beard, beanie or a bit of sparkle, this festival really welcomes all.
On arrival the word excited just doesn't cut it, imagine your favorite thing to do in the entire world mixed with anticipation, multiply that by a thousand, you're getting close to the feeling that Polaris offers you. Nothing can prepare you in terms of how the event makes you feel or what you're about to experience, don't hold back, go with it and let every bit of your body and senses guide you through the four-day emporium of dance land.
It's surreal set up is like nothing else on this Planet. I felt privileged to have been there amongst so many party revellers in mixed ages ranging mainly from 25-45 years of age. The impressive Dome Shaped venue situated 1650m up the Mountain looking over one of the world's most prestigious ski resorts Verbier, offering not only some of the best slopes to Ski/Snowboard but brilliant Nightlife, Eateries and the opportunity to party until the early hours every morning or as much as you can handle at least, with locals, travellers and just anyone that is up for a good time.
The location allowed for perfect bewildering sunsets whilst listening to beats from some of the best world-class DJ's. The line-up included but to name a few.
BEN UFO // CARL CRAIG // DIXON // DJ REAS // DJ TENNIS
HATARI // HUNEE // I:CUBE LIVE // JAY DANIEL // JEFF MILLS
KYLE HALL // LAOLU // LAURENT GARNIER // MASSIVE ATTACK
DJ SET MIRKO LOKO // NGOC LAN // NINA KRAVIZ // PRINCESS P // RICK WILHITE RIPPERTON LIVE // SASSY J // SCHWARZMANN
TALE OF US // TRIKK
An eclectic mix of House, Techno, Groove, Contemporary Dance, Electronic, Deep Beats, Trippy House, Micro sounds and many more sounds you can think of, creating a penultima of sounds to test any ear buds. Whether you're a hard-festival goer or a festival virgin, this really is one not to be missed. Put this on your Bucket list for sure. Offering a style of music to suit all genres of interests, it leaves you wanting more. There are many words that I could use to try and describe the sounds within the Polaris Dome, but I wouldn't be doing it justice, using some of the best sounds systems around your really are getting your money's worth of ear buzz by the end of the night.
The Festival is situated in a perfect location to be able to head down the slope after an afternoon session into the party zone. For those not doing snow sports there were plenty of buses available from the main village bus stops taking only 5 minutes to reach the top.
Polaris Festival has very distinct branding offering the opportunity for many people from all walks of life to cut a slice of the magical escape, and snow topped environment.
Polaris Festival has very distinct branding offering the opportunity for many people from all walks of life to cut a slice of the magical escape, and snow topped environment. It runs for four days in early December each year. Its 4th edition of the event growing at a huge scale for one of the most exclusive, popular mountain top festivals around. I would suggest getting your tickets early for the next one, I know I will be.
Plenty of facilities for party goers making the event one of the best organized that I have seen. An impressive 12000 people showed up to this year's event, which meant that the party vibe was mesmeric to say the least. Don't let the mass scale put you off, there is plenty of space to dance or relax.
The stand out DJ's this year had to be Massive Attack, Jeff Mills, Dixon, Laurent Garnier, Carl Craig, Hunee, Sassy J and Kyle Hall. All offering something different to the ear senses, titillating every part of your body to move and be part of something amazing. I hadn't seen Massive attack perform live and even though Grant Marshall was the only one on set he ultimately got the party started with his deep house tones mixed with a techno vibe followed by the artists above and many more.
One of my favorites for the weekend had to be Hunee with his Classic smooth house sounds, mixed with a groove to get people in the mood to share some effortless shapes on the dancefloor.
Laurent Garnier, wow can this guy create some noise..
I felt an organic presence when Hunee was playing his set, making his set feel slightly more chilled with an upbeat flare. Another one of my favorites was of course Laurent Garnier, wow can this guy create some noise, his definite techno house vibe mixed with electric sounds had everyone mesmerized longer than he was meant to play as the wonderful Nina Kravitz was running slightly late. This wasn't such a bad thing as it felt right and felt good.
You will read many reviews on the Polaris and many of them will go into detail about each of the artists that performed, I would rather give my opinion on how the festival makes you feel from start to finish. Even writing this review I don't want to be back in London, its left such an everlasting impression I want to still be there partying and making friends which is inevitable to do whilst there.
I suggest you check it out for yourself next year, it's a long time to wait but it worth the countdown, starting now!!!
Links to the event
https://www.polarisfestival.ch/
Instagram
https://www.instagram.com/polarisfestival/
Watch out for the release of next years dates.
By Rachel Bambrough for Grapevine Guide
(Right reserved – All photographs by Rachel Bambrough)