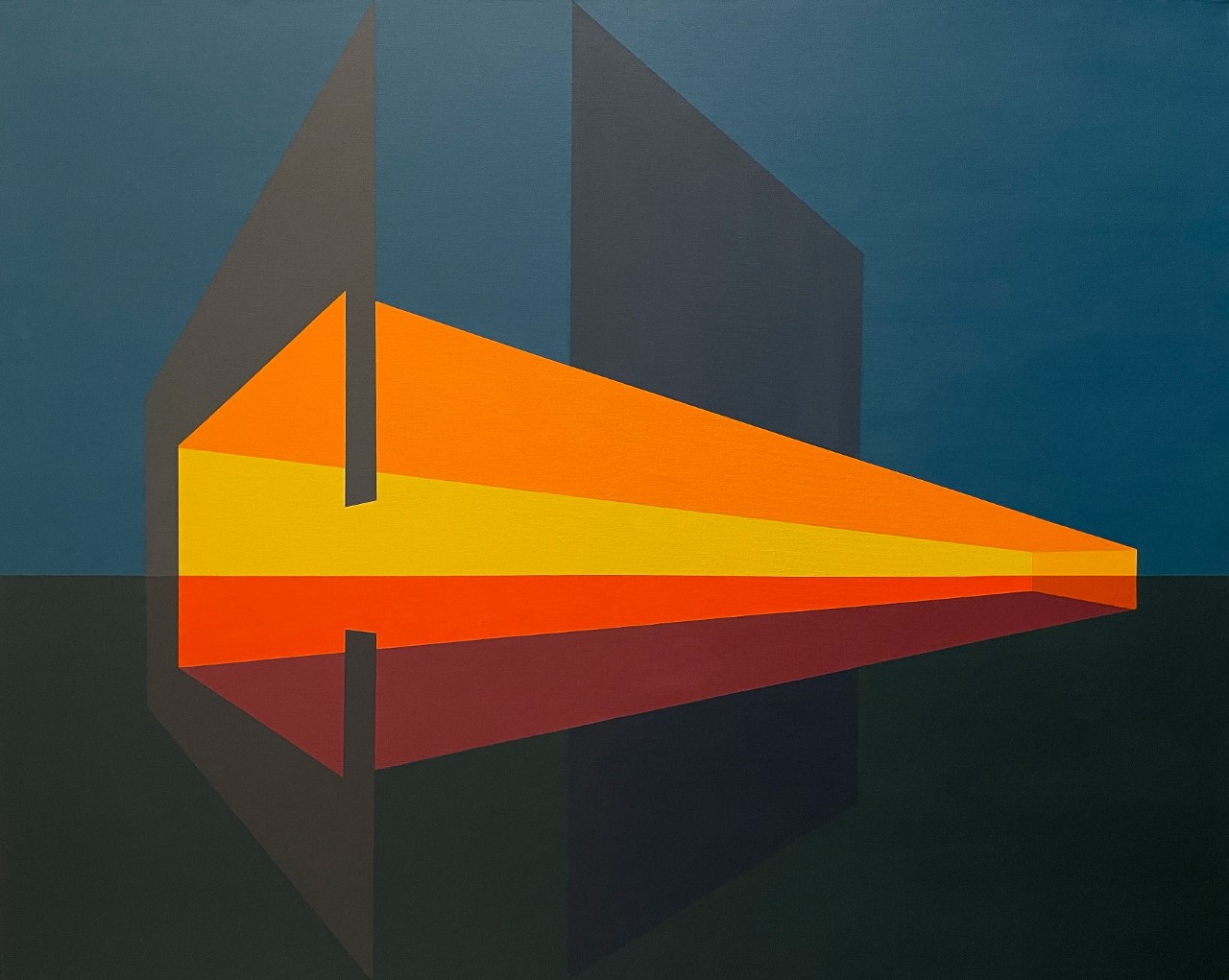 Artist and musician, Tim Muddiman will hold his first, eagerly-awaited solo show, The Ones Who Slept There at London's new, 99 Projects gallery from 1 – 19 July, demonstrating his exciting move into paintings of modernist architecture.
The solo artist and long-time musician for Gary Numan will unveil 20, never-before-seen paintings and limited edition prints at the Kensal Rise gallery, which will hold a VIP private view on 1 July.
The show marks the point where Muddiman's two, art and music worlds collide – the exhibition title is itself a nod to a lyric from Tom Waits' Ninth and Hennepin song, which describes a place of transition; neither a home nor a destination.
A body of real and imagined architectural works, inspired by the work of Beat Generation musicians and writers, are brought to life in Muddiman's large canvases. The series delves into the mind of a man who has spent decades stepping off tour buses into city centres and hotels, struggling with maintaining good mental health as part of a relentless touring life, while also commenting on the universal themes of exhaustion, loneliness and struggles many face dealing with modern life's pace.
The playful, Super Sausage piece shows a cafe Tim is fond of, exploding from the canvas in a retro palette of pinks, juxtaposed against a dark and foreboding backdrop from the grey ghosts of surrounding buildings.
The Working Man's Club sees a driver's-eye view of the Northampton platform venue where train workers drank at the end – and perhaps more worryingly, the beginning – of a long shift. Meanwhile, The Broken Umbrella and The Hennepin paintings imagine the eery, shadowy and mysterious hallways and rooms from the conveyor belt of hotels where Tim would head until stage time. The hotel walls are decorated with Tim's Black Jack and The Crumpled Horn paintings, regular motifs in his work.
The House That Jack Built is named after an old nursery rhyme and is often used as a derisory term to describe a badly constructed building. In this painting, the security of the walls have been removed entirely, to allow a harsh spotlight of angry colours to flood the dark space, in a comment about dysfunctional home life.
Muddiman says: "I have been fortunate to have seen all four corners of the world, exploring different cities, cultures and expressions.
"And those images and sights become a part of your subconscious. My paintings are all born out of this experience and dreams and thoughts they inspire.
"I am drawn to structure and controlled expressionism. Deep colour and hard edges. A not so obvious perspective and strength as well as fragility."