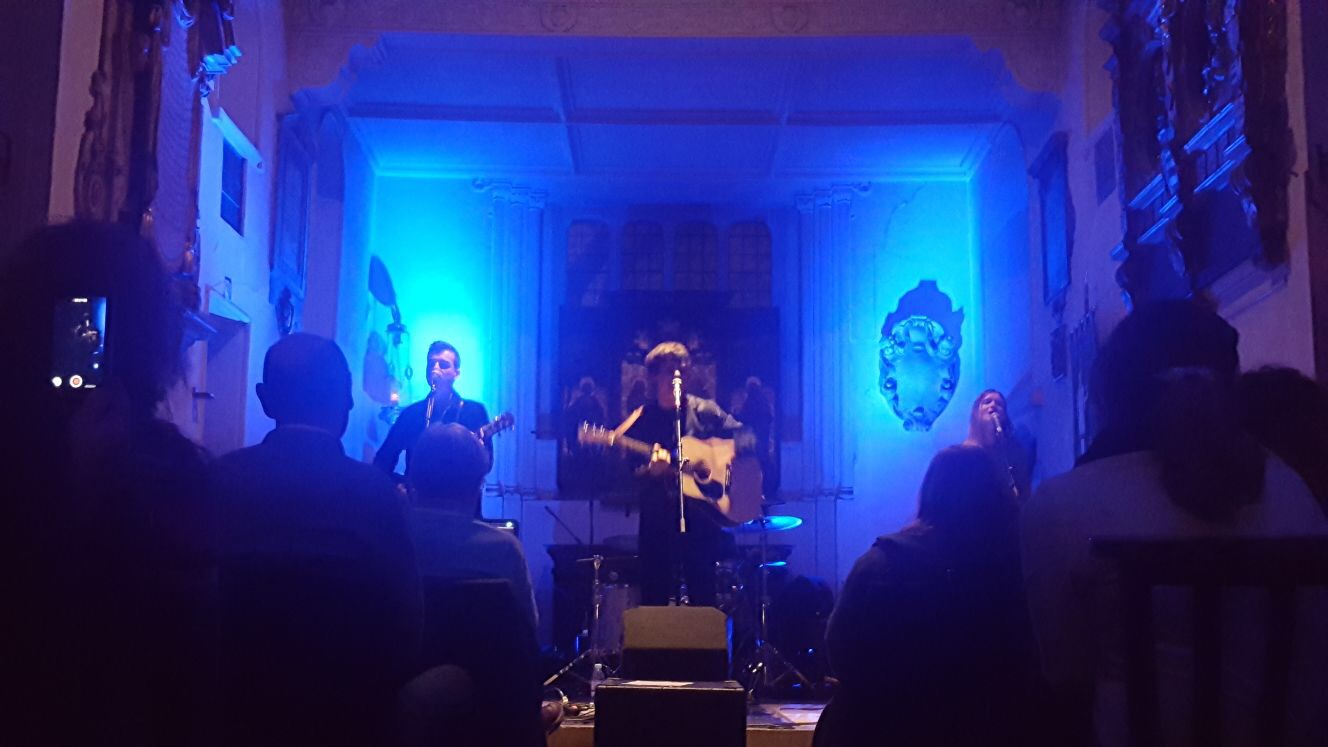 Sitting beneath four walls is a peaceful haven which is about to be transformed into a lively music venue for the wonderful Tom Speight and his support acts. I have passed by the adjacent road to Old St Pancras church many times on my way to the office but didn't know anything about this place.
Interior boasting a mysterious, yet humble feel crossed with its calm and subdued atmosphere is the perfect escape from the London hustle and bustle. It's the perfect symphony for tonight's performance.
A small crowd start to fill the space which has a mix of seating and standing areas. Family and friends of Tom's are also here to support and enjoy a wonderful evening of mixed genres and quirky personalities.
Supporting Tom was the Lovely Scarlet with one T as we were reminded during the performance. You can find her symphonic tones right here: www.musicglue.com/scarletbillham
Another Supporting act which encouraged the room to tap their feet and smile was the wonderful Kiol playing a vibe mixed between Paulo Nutini and Mumford of sons. You can find him here: www.kiolmusic.com
But most importantly the reason why we are gathered is to see Tom Speight and hear his wonderful melodic tones fill the room. Arriving on stage with his guitarist, backing vocalist and drummer, Tom looks calm, cool and confident all at the same time. Donning a military style jacket to keep the vibe casual but current. When the set is opened you can feel the excitement in the room and the anticipation for sounds we are about to enjoy.
Starting off with familiar songs like 'why, why, why' and 'Back to me' which then leads into a more alternative set. Tom's voice is captivating, almost magical with a gruff undertone to hint at his masculinity on stage. With the low lighting surrounding us, all eyes are on Tom.
Tom's voice is captivating, almost magical with a gruff undertone to hint at his masculinity on stage.
A confident entertaining performance throughout the entire set. One of the highlights of the show is when Tom and his band take center stage dancing down the church aisle encouraging everyone to join in and clap allowing us to engage with him and his playful side. Cracking a few jokes, and maybe a few heads with his guitar along the way, no one seemed to mind and embraced the idea.
I wouldn't change anything about the venue or the set that he performed. Every song evoked a different emotion, allowing me to remain surprised and astounded by what was going to happen next.
Having been lucky enough to get a golden ticket to the event I would urge anyone in London to book up in advance for the next Gig Tom will be playing. This is not one to be missed!!!
If I had to sum up the evening in one word it would be prodigious which means Just Wonderful.
Take a look at Toms website where you can download his latest music and buy yourself a small xmas treat. www.tomspeightmusic.com
You can also follow him on:
Twitter twitter.com/TomSpeightMusic
Instagram www.instagram.com/tomspeightmusic
Facebook. www.facebook.com/TomSpeightMusic
Check him out if you haven't already done so.
Review by Rachel Bambrough for Grapevine London