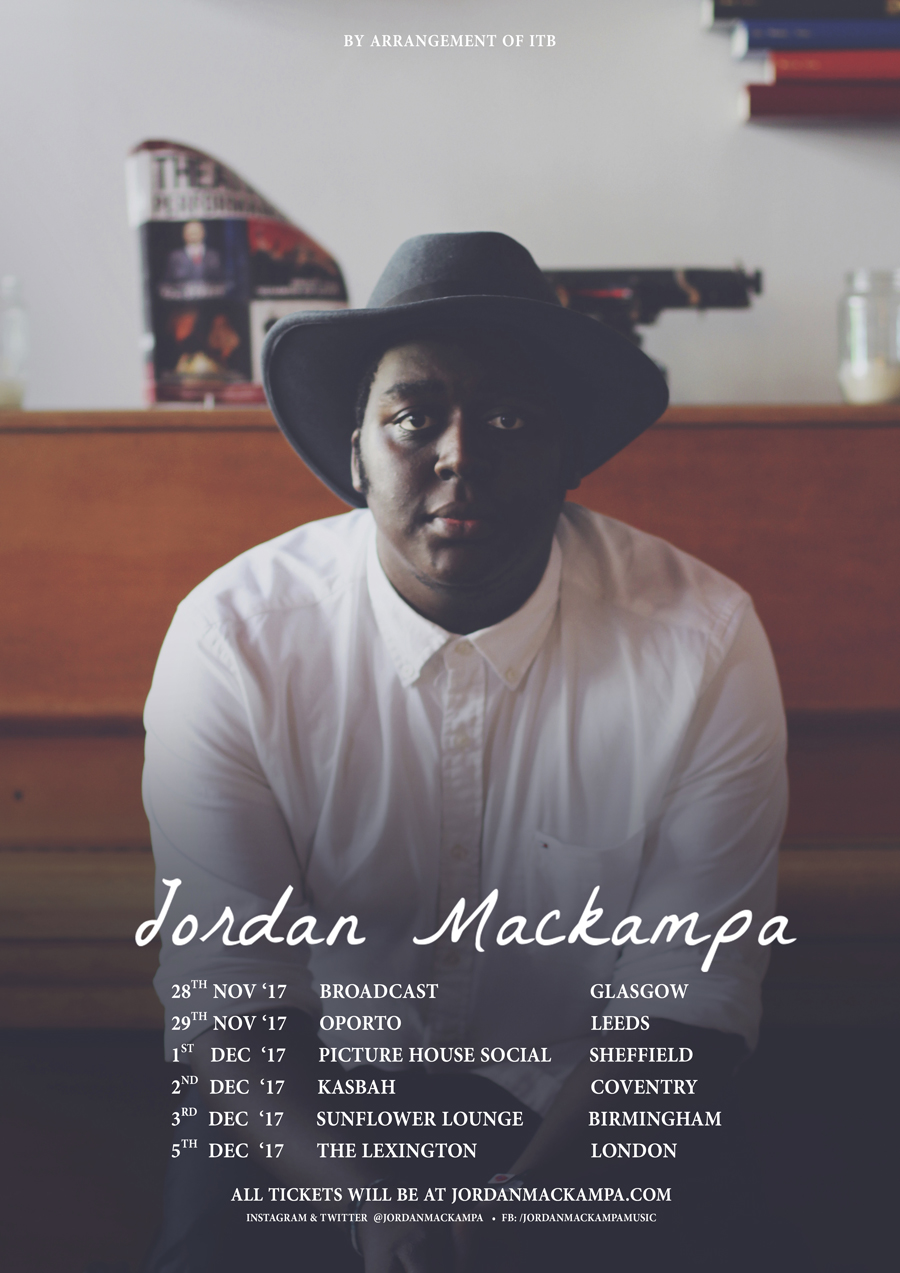 The acclaimed, soulful, acoustic singer-songwriter, Jordan Mackampa will be playing a stunning live set at The Lexington, London on Tuesday 05 December.
Listen to Jordan Mackampa here:
Spotify: https://open.spotify.com/artist/24WPEGLYPvEsmk4GSDFyST
NME – 'Drawing on named influences like Lianne La Havas and BB King, 'Physics' stitches together remnants of blues, folk and soul to create a varied and eclectic sound that best reflects the uplifting spirit of one Stevie Wonder.'
Wonderland – "Soulful and stunning, Jordan Mackampa has been wowing audiences with his rich vocals and enlightened songwriting since the release of his critically acclaimed "Physics" EP last year."
LOBF – "Battlecry" is a thumping, rallying cry that snowballs into a huge, foot-stomping anthem."
405 – 'Jordan Mackampa has an old soul and an enlightened voice.'
Clash – 'Earthy, soulful songwriting laced with folk hues, there's a sense of warm romance within Jordan Mackampa's affecting vocals.'
The artist recently released 'Give Into The Dark' the first track taken from his forthcoming live EP 'Live From the Grand Cru', set for release Spring 2018.
Speaking on the track, Jordan says:
Give Into The Dark' is a confession of sorts, but with less religious attachment. I'm saying that the "real world" feels less like a dream come true and more of a nightmare. So by giving into the dark, I escape to a place where I'm at peace, giving me the chance to runaway from the war I'm fighting; even if it's only for a moment or two.
'Give Into the Dark' was written with Olly & Gayle (Turin Brakes) in Olly's kitchen last year, during that brief "heatwave"! In the demo, you hear children playing in the background. We thought there was something sweet about the innocence of that; so tried to emulate that vibe, by keeping it quite sparse and honest.
Live From The Grand Cru', follows the release of two previous EP's. 'Physic' EP, (rel 2016) and 'Tales From The Broken' (rel early 2017). Both EP's received critical acclaim from NME, The 405, LOBF, Clash, Indie Shuffle, Wonderland and Hillydilly. Jordan has strong support on Spotify, both EP's have collectively amassed over 4m streams.
Songwriter Jordan Mackampa is often described as a troubadour, an artist with timeless soul and lyrics drenched in heart felt empathy. As a man who has born in Kinshasa, grew up in London and became an artist in Coventry, Jordan's music is swimming in the sounds and stories of the cities he's inhabited over the years.
FULL SET OF TOUR DATES
Tuesday 28 November 2017, Broadcast, Glasgow
Wednesday 29 November 2017, Oporto, Leeds
Friday 01 December 2017, Picture House Social, Sheffield
Saturday 02 December 2017, Kasbah, Coventry
Sunday 03 December 2017, Jordan Mackampa, Sunflower Lounge, Birmingham
Tuesday 05 December 2017, Jordan Mackampa, The Lexington, London
Website – www.jordanmackampa.com
Facebook – www.facebook.com/JordanMackampaMusic
Twitter – @jordanmackampa (twitter.com/JordanMackampa)
Instagram – @jordanmackampa (www.instagram.com/jordanmackampa)
Youtube – www.youtube.com/c/jordanmackampa