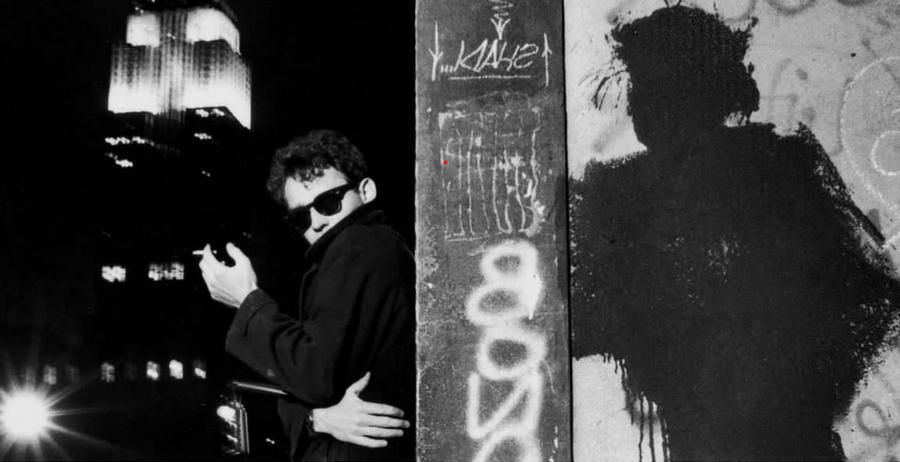 On the fourth anniversary since the death of pioneer street-artist Richard Hambleton – dubbed "the Godfather of Street Art"*, Woodbury House – modern-day arthouse, living studio and key advisor to and distributor of the Richard Hambleton foundation – hosted a screening of the award-winning Shadowman, a film about Hambleton's life and legacy, followed by a talk with fellow-artist and friend, Nemo Librizzi, at Ham Yard Hotel on 29th October 2021.
In the 1980s, Richard Hambleton was the Shadowman, a spectre in the night who painted hundreds of startling silhouettes on the walls of lower Manhattan and, along with Keith Haring and Jean-Michel Basquiat, sparked the street art movement.
Oren Jacoby's film Shadowman plunges the viewer into the chaotic life of Hambleton – by that time a forgotten artist – from his early fame as a painter and denizen of the Lower East Side, to his struggles with heroin, and his surprising comeback, as street art exploded to become one of the most popular and lucrative art movements in the world. Before Banksy, there was Hambleton. The 2017 film garnered much critical acclaim, including Audience Award runner-up at its World Premiere at the 2017 Tribeca Film Festival; and Audience Award Nominee at Hot Docs Canadian International Doc Festival 2017.
Nemo Librizzi, whose talk followed the screening, is the son of late art dealer Rick Librizzi, who was close with Hambleton. Rick had a special relationship (for a dealer) with artists, having begun as one himself; he indeed made and exhibited his work up until his death earlier this year. Librizzi's move into dealing as a way of putting bread on the table got him deeper into the art world's moving parts. He not only worked with the heavy-duty collector, Walter Chrysler Jr. (son of the automobile magnate) securing works by John Chamberlain, David Smith, Andy Warhol etc, but he also worked up-and-comers, in particular those in the graffiti world. He opened a small graffiti gallery on Broome Street, showing some of the younger graffiti artists, such as Hambleton, that since have become big names. He is reported to have said that "you have to be a psychiatrist and a doctor and a lawyer to deal with those kids. They were all nice kids, but it was very difficult. Nonetheless it connected me with what was going on in New York."
At the screening, the launch of a stunning coffee-table book on Hambleton, published by Woodbury House, was announced. The book is now available via the Woodbury House site at £120.
there is a palpable current zeitgeist around Hambleton, see latest published by the New York Times here: https://www.nytimes.com/2021/10/20/arts/design/the-return-of-the-shadowman.html / https://www.instagram.com/p/CVa_bMnlF-y/?utm_medium=copy_link and on their IG here: https://www.instagram.com/p/CVa_bMnlF-y/
*https://www.sothebys.com/en/videos/richard-hambleton-the-godfather-of-street-art
Woodbury House follows the principles of a modern-day Arthouse. Inclusive, exciting and disruptive, believing in creating an environment and culture that stimulates creativity and showcases artistic talent. Founded in Soho, London in 2014, WH is dedicated to curating and managing a number of new and established artists working collaboratively to bring their undiscovered narratives to the fore. The WH in-house advisory team also provides new and established art fans, enthusiasts and seasoned collectors with intelligence and guidance on art investment, making art more accessible for all. As appointed advisors and distributors to the Richard Hambleton Archive, Woodbury manages a significant number of his original masterpieces and remains one the world's single most effective points of access to the iconic pop expressionist and Godfather of Street Art, facilitating primary as well as secondary market sales and acquisitions. Operating at the intersection of culture, creativity and commerce, Woodbury House has developed a modern data-driven ecosystem that includes social media, events, fashion drops, brand collaborations, publishing and a cutting-edge online retail division.
Woodbury House credentials: https://hubs.ly/H0VCpVL0
Richard Hambleton – artist profile: https://hubs.ly/H0VCplB0
Social links: https://www.instagram.com/woodbury.house/?igshid=fl89r2jsoqa5
https://www.facebook.com/woodbury.house.art/https://www.youtube.com/channel/UC9v4gZ3HN5pr9yaGYnIiFKw
https://www.linkedin.com/company/woodbury-house
https://www.youtube.com/watch?v=aMylh9s-FjI is an example of the Steven Sulley Study podcast; founder of Woodbury House