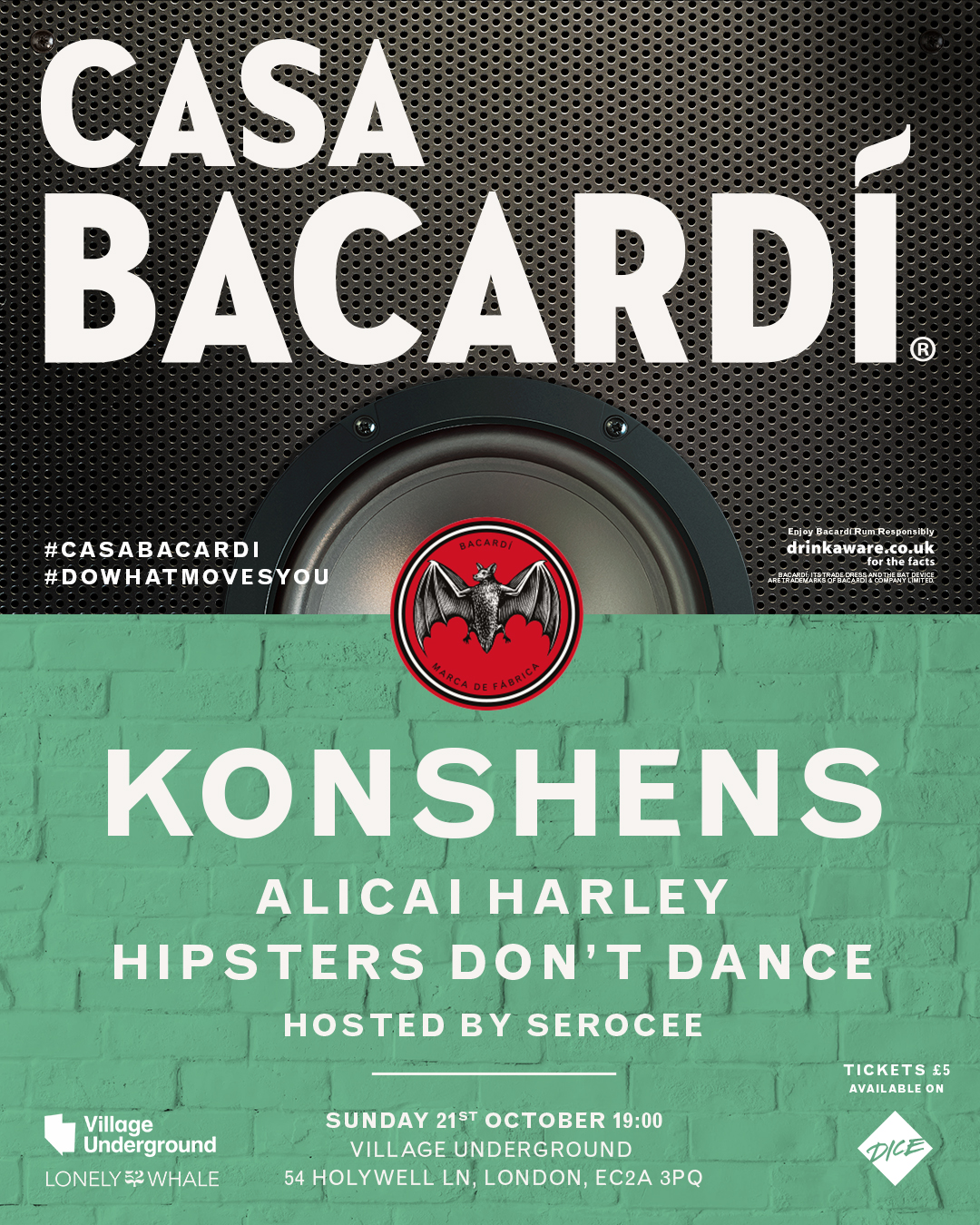 Yungen, Konshens and Mr Eazi to headline gigs in key UK cities
BACARDÍ rum kicks off gig season by announcing an autumn tour for its CASA BACARDÍ live music events, headlined by Yungen, Konshens and Mr Eazi. Tickets for all three shows go on sale today through the mobile ticketing platform DICE.
CASA BACARDÍ returns to three of the UK's biggest music-loving cities off the back of an epic live music event at Notting Hill Carnival at the end of the summer. The shows form part of the brand's Do What Moves You campaign, which celebrates the sounds that move and inspire the UK.
CASA BACARDÍ brings together some of the most exciting artists from around the world to shine a spotlight on the UK's unique music scene, cultural mix and energy. The series will kick off with Konshens at London's Village Underground on 21st October, followed by Mr Eazi at Birmingham's Mama Roux's on 25th October and culminating with Yungen at Manchester's Soup Kitchen on 1st November.
Fans of dancehall music know Konshens as the voice behind many of the biggest bashment anthems of the last decade. His songs like "Gal a Bubble" and "Bruk Off Yuh Back" are absolute anthems of the genre, capable of sending dancers into a frenzy the second they're played at a party.
Chart-topping rapper, singer and songwriter Yungen is one of the UK's hottest acts after an incredibly successful 12 months, selling over 1 million records and releasing several Top 20 singles including the Platinum certified 'Bestie'.
Multi-talented Nigerian singer songwriter Mr Eazi is the pioneer of Banku Music, a fusion sound he describes as a distinctive mixture of 'Ghanaian bounces, Ghanaian highlife, Nigerian chord progressions, and Nigerian patterns' – a sound that he recently brought to the stage for CASA BACARDÍ at Notting Hill Carnival in a perfect celebration of the 'sound of rum'.
Fans attending the gigs will see the headliners take to the stage for exclusive live sets with support from emerging and local artists including Nadia Rose, Afro B, Timma T, Alicai Harley, Hipsters Don't Dance, A2 and more.
Proceeds from every sale will be donated to the award-winning non-profit Lonely Whale Foundation.
The full line ups are as follows:
21st October – Village Underground, London – Konshens, Alicai Harley, Hipsters Don't Dance, hosted by Serocee
25th October – Mama Roux's, Birmingham – Mr Eazi, Afro B, P Montana, Timma T
1st November – Soup Kitchen, Manchester – Yungen, Nadia Rose, A2, DJ G-A-Z
Tickets can be purchased here: