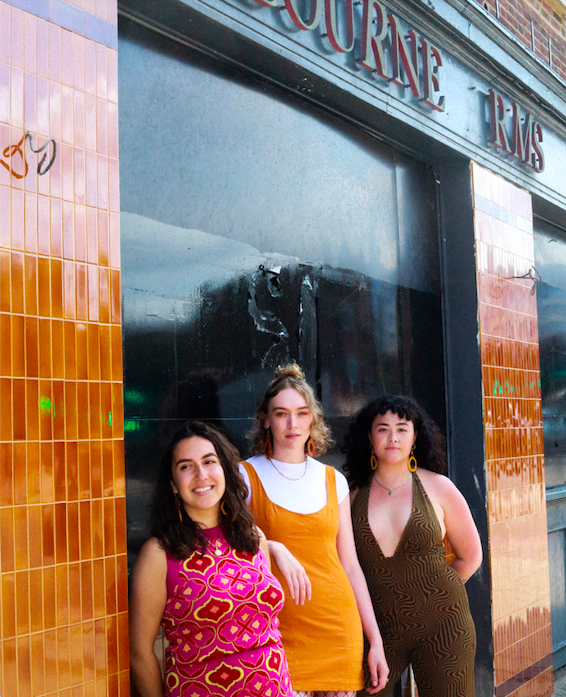 MONDAY 20th SEPTEMBER 2021 will mark the launch of Sister Midnight's' community share offer, in a bid to save the Ravensbourne Arms and create Lewisham's first ever community-owned live music venue and pub. The share offer launched with a Goat Girl fundraising gig at The Ivy House in Nunhead, the famous Community Pub that set the blueprint for the community ownership revolution today. The community will be offered a chance to invest in a campaign that will make history for the independent music scene in the UK.

In order to purchase, refurbish, and re-open the Ravensbourne Arms, Sister Midnight are looking to source a minimum of £500K through a community share offer on the Crowdfunder platform, with rewards for investors such as gig tickets, merch, vinyl, experiences and one-off artwork, and – yes – beer.

It's a big, beautiful, tiled old gent of a pub in a booming area underserved by boozers, but since its former owners called time in 2016, the Ravensbourne Arms has been shuttered. It's been a great loss not just to the locals but to the NHS staff of the Lewisham Hospital across the road (side note: they're the ones whose choir had two Number One hits). Lewisham is in the middle of a housing boom. Brand new glass tower blocks loom over the town. But at street level, the community is starved of places to gather – and of places to see live music.

Parachuting into this situation with a mission not just to rescue this beloved pub, but to preserve it for the community and establish it as an events space and grassroots live music venue, is a former grassroots music venue led by group of three remarkable young women, under the name Sister Midnight; having lost their Deptford venue space during lockdown, they are now on a mission to reinstate the Ravensbourne Arms as a community owned live music pub. That means all profit will be reinvested into the pub, forever, because Community Pubs are run for and by locals with established democratic processes for governance. With a Community Pub, the few don't get richer, we all do – culturally, socially and communally. Maybe even physically – but only if you attend the daytime yoga sessions!

Inspired by The Ivy House in nearby Nunhead, the nation's first Community Pub and now the well-established, well-loved South-East London stalwart that brings joy to it's Peckham neighbourhood, the group has gathered the support and information needed to untangle the bureaucracy required to save this pub for the people.

Lenny Watson, Verity Hobbs and Sophie Farrell, each in their 20s, have already achieved astonishing things, from shoring up support among the local political establishment to getting one of the hottest bands on the South London scene, Goat Girl, to headline their first fundraiser event in August. Proceeds of that show, which took place at The Ivy House, went towards the campaign's mounting expenses, including legal fees.

Formerly known as The Coach & Horses, the Ravensbourne Arms has a chequered past. In an area that saw its share of tension as London's society evolved rapidly during the latter half of the 20th century, it was blighted by associations to the National Front. The so-called Battle Of Lewisham, when NF marched from New Cross to Lewisham in 1977 and violently clashed with anti-racists and police, was plotted in places such as this.

Sister Midnight hope to change the pub's story for good, reviving it as a safe, inclusive, all-day space that puts the local community – the entire community, in all its glorious forms – at the heart of everything they do. This means activities for babies and the elderly and everyone in between.

Central to the mission will be fostering the incredible music talent in the area, which is home to grime and drill artists, art-school bands and the ever-rising, youth-powered jazz scene. This will be a continuation of Sister Midnight's operations in nearby Deptford, where the collective opened a grassroots music venue, record shop and bar , sadly, became unviable during the pandemic due to issues with the building. Testament to Sister Midnight's standing on the music scene is the line-up showing their support by playing the next benefit gig, taking place at the Ravensbourne Arms' nearest neighbour, The Fox & Firkin on Lewisham High Street, on October 2. The all-day event is headed by the thrilling post-punk band Porridge Radio, former NME and DIY cover stars whose 2019 debut album drew rave reviews across the board.

With locals now able to invest directly into the pub themselves following a community share offer launching on September 20th, the campaign to save this incredible venue as a community resource looks almost unstoppable.The key however, is getting as many people involved as investors in the pub.

It was noted at the time that had the local press in Lewisham not been decimated – just as it has across the nation – then the overnight closure of this great pub might not have been allowed to happen unchecked. We'd like your help to make sure that all eyes are this campaign to right that wrong.

2022 is Lewisham's year as London's Borough Of Culture. This campaign to save the Ravensbourne Arms aims to make every year a year of culture in this vibrant, up-and-coming, community-minded, multi-cultural and economically challenged part of London.
---
SUPPORT FROM LONDON'S LEADING CULTURAL FIGUREHEADS

Vicky Foxcroft, MP for Lewisham Deptford – "As the MP for Lewisham Deptford I am pleased to support Sister Midnight's project to take over the Ravensbourne Arms as a Community Benefit Society. This is such an amazing opportunity to revive a currently unused venue in a way which puts the community it is based in at its heart and provide exciting cultural opportunities which are accessible for local residents.
I am also happy to see such a great project lead by young women, who are too often not at the forefront of projects like these."
Amy Lamé, Night Czar, London – "There has been a pub on the site of the Ravensbourne Arms on Lewisham High Street since the 1750s. But sadly this venue, which has enormous potential, is currently sat empty. Sister Midnight, a community benefit society, is working to save the Ravensbourne by bringing it into community ownership as an accessible, affordable and inclusive live music pub. From an early stage in the consultation process, Sister Midnight has received an overwhelmingly positive response from the local community, demonstrating a huge appetite for a community owned live music space in Lewisham.
Music, community, pub culture and inclusivity are at the heart of Sister Midnight's vision. I look forward to working closely with them to bring this fantastic project to fruition."
Cllr Mark Ingleby, Chair, Lewisham Creative Legacy Taskforce 2021 – "Sister Midnight's bid to revive both the pub and its live music at The Ravensbourne Arms is both timely and critical to maintaining the impetus of the upcoming 2022 London Borough of Culture year in the Borough, and it is emblematic of the community-driven enterprise that is vital to growing and securing Lewisham's unique cultural and creative industries opportunity.
The Ravensbourne Arms project lies in a key location in both the vicinity and the networks of other Lewisham pubs and venues that have achieved national recognition in jazz and urban music, for the role they have played and will play in the growth of exceptional musical talent that is crucial to the legacy of the Borough of Culture Year.
This is a very timely opportunity, not to be missed, to add to these special venues and what they can do for our Borough."

Goat Girl – "We first got involved with the Ravensbourne Arms through being regulars at Sister Midnight's venue in Deptford. That's where we got introduced to Lenny and the music scene that thrived from the space. We were saying the other day that our social life has been at an all time low not having Sister Midnight round the corner anymore because it's the place that you would find everyone at doing lots of different side projects, music, art and film, and cool stuff

This idea that Lenny has is just like such a dream, it's what the world needs, and we're very excited for it. Without these spaces and enthusiastic people like Lenny, as musicians and bands who are now able to tour and play at festivals, we wouldn't have any of that so it is really truly down to these people and these places that allow it to exist in the first place.

Having community run venues is so important, especially now with all the venues that are closing basically because of gentrification. With the model that Sister Midnight are pushing for being community owned, it's not in the hands of big landlords, and that's really important as we need to have these spaces and everyone in the community having their say on what goes on because these spaces should be for all different types of people that live in that area."

Dan Stubbs, former Deputy Editor, NME – "The music scene is one of Britain's last great industries, but a combo-kicking from Brexit and the pandemic has taken its toll on those who nurture it. Small venues are the soil from which world-beating artists grow. The talent pool in South East London is second to none, but – with no disrespect to the wonderful Fox & Firkin – the infrastructure in Lewisham is sorely lacking. This campaign to save the Ravensbourne Arms is not only welcomed, it's essential. So as a local, as a music lover and as a music journalist, I am backing this amazing, altruistic enterprise all the way. The revolution starts here!"

Lenny Watson, Founder of Sister Midnight – "Sister Midnight has always been about providing a vital platform for musicians and creatives in the early stages of their careers, and it's what we built a reputation for at our venue in Deptford. When the effects of the pandemic forced us to close down that site and look for a new venue, we set out to create a space for live music that would be sustainable long term. Music venues and pubs are important community assets, and we believe that they should be owned and controlled by the communities they exist in. We need to take the future of grassroots music venues out of the hands of landlords, who all too often only care about the rent they get paid, and make sure that venues are protected for generations to come. That's why we became a community benefit society, and why we're asking our community to invest in Sister Midnight and become a part owner of a local music venue. We want to save the Ravensbourne arms and make it a space where our community has a say in how things are done, and where we can carry on showcasing the best creative talent that Lewisham has to offer."