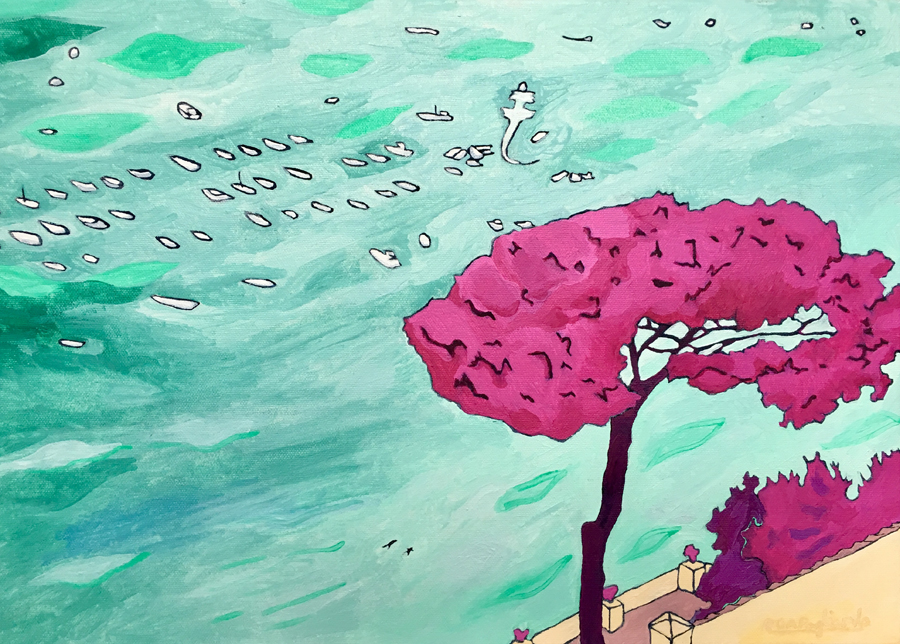 Roberto Pagliarulo's paintings – featured in a solo show from 22 March to 13 April at Highgate Contemporary Art Gallery in London – balance allusion to ancient Italy with a pure celebration of form, beauty and colour. There is a real confidence to his solid blocks of flat, complementary colours; Tyrian purple is juxtaposed with burnt orange, Persian blue with marigold yellow, and each image is infused with a Mediterranean light. He accentuates the elegance of everyday objects, such as a basket of apples, with his calligraphic style and rhythmic outlines.
At the same time, there is a sense that every object has been included for its symbolic evocation of Rome's rich history. Born to an Italian father, Pagliarulo's inclusion of classical busts, sculptures and mythologised figures, all playfully posed, point towards antiquity. Yet, these paintings escape self-consciousness, which pervades much contemporary art. Neither are these nostalgic images; instead Pagliarulo renews the tradition of classical landscape and still life painting with vitality and charm. In this exclusive interview he speaks about his Italian roots, use of colour and 'paintings within paintings'.
Your paintings are filled with a Mediterranean light – is this an expression of your Italian identity? Do you find/paint your subjects in Italy?
I was born and raised in England but my father is Italian (and my mother is English), so Italy and the idea of Italy is part of my identity. My love of Italian scenes, be they coastal views of the Amalfi or the ruins of ancient Italy that you can find in Rome today, must at least be a part of that identity. Currently, I do find a lot of my subjects in Italy or in its past and when travelling have my sketch pad or paints with me.
There is also a surreal quality to your work; where do the ideas for your playful compositions come from?
I suppose it is hard to say where one's ideas come from; how does anyone really know? They do in large part just come naturally. However my ideas are a product of what I am interested in and I do enjoy playfulness in my paintings. So, for example, my mother is an actress and since an early age I have been interested in theatre. Shakespeare and Pirandello often used plays within plays in their works and in some of my paintings for example, the large still lives, I place paintings within paintings as a playful concept.
I love your rich use of colour, combined with a decorative feel, which reminds me of Matisse's Fauvist works. Do you believe in art for art's sake? Do you use your painting as a form of escapism?
I remember reading Gerhard Richter saying that although it sounds absurd, he believed art has the power to change the world we live in. I've always loved that expression. Nietzsche too said, creation is alleviation from life's suffering. So yes I do believe in art for art's sake and that it can be a form of escapism. More simply for me, however, my painting is about joy and the colour of life and of beauty.
Is the scale of your works important?
I paint in all different shapes and sizes from the very small to very large scale, such as my triptych which is a number of metres long. I do get a great sense of satisfaction when I step back and look at bigger pictures and find my eye wondering in all different directions.
In your recent paintings I can see your fascination with roses – is there a particular significance or symbolism accorded to this?
I've simply always been drawn to their elegance and beauty.
I know the artist and Slade School of Fine Art tutor Paul Richards is a mentor to you. Given you lack of formal art training, did he teach you to paint in the way that you do?
I've always drawn and painted since a small child and was an art scholar at Haileybury College, where I won the College's art prize for my A level work. Paul came to my first solo exhibition in London in 2009 where I first met him. It was marvellous for me that a senior tutor at the Slade School of Art was excited about my work. He helped me in two respects; firstly, I took his encouragement as an endorsement of how I was painting and secondly, he also gave me a few technical tips which I've kept in my mental tool-kit.
Does your academic background – as a historian with a doctoral degree in literature – influence your practice?
One's art is an expression of oneself. My keen interest in history and literature have brought a richer and deeper meaning to some of my paintings. You'll see some explicit reference to antiquity and ancient history in my still lives.
Roberto giving a lecture at Haileybury Festival of Arts
You can view Roberto Pagliarulo's works at Highgate Contemporary Art Gallery, London from 22 March to 13 April.
Roberto regularly exhibits in London and his work is held in a number of collections. Recent London exhibitions include: June 2016, Haileybury Festival of Arts, exhibition and lecture by Roberto on "Colour, Composition and Meaning", December 2015 & January 2016, Group Show, Highgate Contemporary Art Gallery; 6 July–4 September 2015, Summer Farrago, Highgate Contemporary Art Gallery, Group Summer Exhibition; 17 June–3 July 2015 Colour: an exhibition of the works of Roberto Pagliarulo, Highgate Contemporary Art Gallery; October 2014, The Affordable Art Fair, Lena Boyle Fine Art, Battersea Park; January 2014 The London Art Fair, Lena Boyle Fine Art, Business Design Centre, Islington.
You can visit Roberto's website here.
Interview by Ruth Millington: www.ruthmillington.co.uk